Leccy Tech Ever wondered what the progeny of today's gadget obsessed 'yoof' will be driving come the year 2030?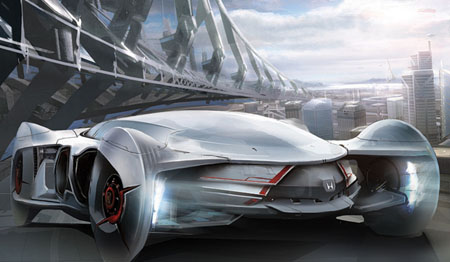 Honda's Helix would access your DNA's double helix
That was the question recently posed to designers from some of the world's top car makers – those with studios in California, anyway - as part of the Los Angeles Auto Show 2009 Design Challenge.
The results – all electrically powered, naturally – of the subsequent head scratching, doodling, back-of-envelope scribbling and general CGI tom-foolery are now available for your consideration and applause...or derision.
Strangest of the bunch is Honda's Helix, which would sport a body able to morph into three distinctly different shapes.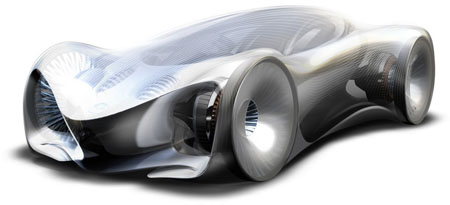 Mazda's Souga - made from recycled materials
Helix could also employ shape-shifting 'active polymer body panels' that would ensure the vehicle's ability to adapt to the driver by...er...accessing their DNA.
Next up is Mazda's Souga, a cheap - roughly $2000 (£1207/€1338) in today's money, designers estimated - runabout made from recycled materials.
Apparently kids would design their own Souga online, pay the production fee and then cough-up for the required leccy power through subscription.

Nissan's V2G could be jailbroken to go off-road
The Vehicle 2 Grid (V2G) from Nissan, however, would suck its electricity directly from roads. Anticipating the rebelliousness of youth, Nissan has already coined a term for jailbroken V2Gs – "V2G [UNLMTD]" – designed to go 'off grid'.
Nissan presumably also thinks that vowels will have been outlawed by 2030.
Toyota's Link is a modular mass transportation system aimed at penurious students.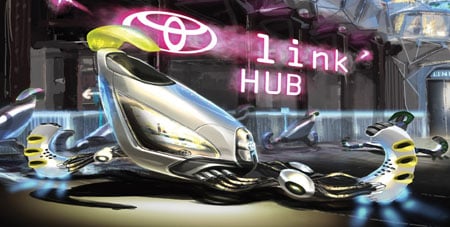 Toyota's Link is a modular mass transportation vehicle
Students would rent a Link at the nearest hub and then zip off to combine their commute with other students, using whatever will have replaced Facebook by then to arrange pick-up points.
Gone will be the days of using the No.37 bus to get to lectures, then?
Rather than conventional wheels, Link would even run on spheres made of an electro-conductive material.

Audi's eOra and eSpira (above) would be controlled using body movements
Audi has also chipped in some motoring ideas for the year 2030, designing the eOra and eSpira vehicles – both of which will be controlled by minute body movements.
Downhill skiing was the inspiration, Audi said. But what will happen when the driver sneezes? A vorsprung durch pile-up is Register Hardware's guess.
Finally we come to General Motors' Hero, which will let drivers pit their wits against the car in a competition to rule control systems.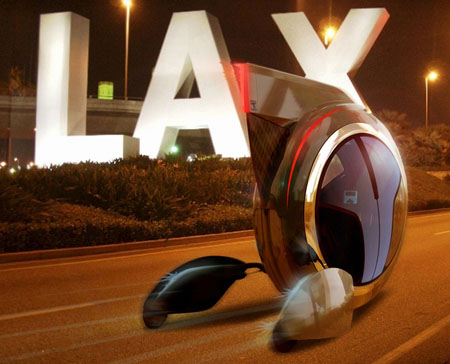 GM's Hero - if you can beat it, you can drive it
Nope, the idea doesn't make much sense to us, either.
The winning vehicle concept will be announced at the Design Los Angeles automobile designers' conference next month. But, for what it's worth, our money's on the Mazda.
Further details about all these flights of fancy can be found online now. ®
Sponsored: Practical tips for Office 365 tenant-to-tenant migration