AMD lays out 2011 PC roadmap
Bobcat riding a Bulldozer
AMD outlined its product roadmaps through 2011 for servers, desktops, and notebooks on Wednesday during the company's financial analysts' day at its Sunnyvale, California, headquarters.
The Reg has already provided a load of detail about the server announcements, but there's plenty more to say about the other elements in AMD's future, as well.
AMD execs Chris Cloran of the client division and Matt Skynner of the graphics division gave a presentation (PDF) detailing the company's client roadmaps, describing how the company plans to claw back market share from Intel.
Key to AMD's future plans is its Fusion strategy, which - what else? - fuses CPU and GPU into an all-new PU, the APU, or accelerated processing unit, a concept first introduced at a company financial analyst day in December 2006. APUs will appear in 2011, when AMD, as explained in a company statement, introduces two newly architected processor cores codenamed Bulldozer and Bobcat.
Designed for desktop and server implementations, Bulldozer will be an entirely new multi-core, multi-pipeline x86 unit built using a 32nm high-K metal gate process and containing what the company calls "extensive new power-management innovations."
Bobcat will be aimed at the other end of the power and performance spectrum: ultra-thin notebooks. Designed to require less than a watt of power, Bobcat will, AMD claims, provide 90 per cent of "today's mainstream performance" in less than half of the current silicon real estate - though exactly how the company defines "mainstream performance" remained unstated.
Both the Bulldozer and Bobcat cores are being designed to be highly scalable and able to be combined with GPU circuitry and other IP assets into application-specific APUs.
Bracketing the Bulldozer and Bobcat announcements were a host of new platform and processor codenames scheduled for release in 2010 and 2011.
Thinks thin
In 2010, AMD's next desktop replacement–class notebook platform, Danube, will support 45nm dual and quad-core Champlain CPUs. Also in 2010, down in the ultrathin zone, the Nile platform will support the dual-core Geneva CPU. Both platforms will include DDR3 memory and offer an option of either DirectX 10.1 IGP or DirectX discrete graphics. AMD claims that both platforms will offer "seven or more hours" of battery life.
2011 will see the Sabine platform at the high end of the notebook line. This platform will be built around the 32nm Llano APU, which will be AMD's first CPU/GPU combo with DirectX 11 support - ahead of the next-generation Bulldozer and Bobcat APUs. AMD promises that the quad-core Llano will provide "GigaFLOPS-class" compute performance.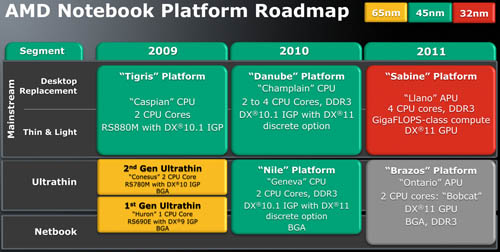 Expect the low, low power Brazos to find its way into netbooks - or whatever they're called in 2011
Also in 2011, the ultra-thin Brazos platform will appear, based on the Ontario APU, which will include dual Bobcat cores and DirectX 11 GPU capabilities. As you might guess, both Llano and Brazos will support DDR3.
Desktop enthusiasts
Yes, Virgina, desktops still exist - especially in what AMD calls the "enthusiast" space. In 2010, that space will be filled by the Leo platform, powered by Thuban CPUs with up to six cores, and supported by the RD890+SB850 chipsetand DirectX 11 discrete graphics.
More pedestrian desktoppers - meaning business buyers, if they ever resurface - will make do with the Dorado platform with Athlon II CPUs of up to four cores and the RS880P+SB810 chipset with DirectX 10.1 integrated graphics. DDR3 all around, of course.
In 2011, the Scorpius platform will enter the enthusiast arena. Its Zambezi CPU will pop into the AM3 socket and will contain four to eight Bulldozer cores - the first CPU to do so. Its discrete graphics are not yet specced, with AMD noting only that they will be "Next-Gen" - oh, and from ATI, if there were any question as to their lineage. 2011 will also see the Lynx mainstream platform, which will also use the aforementioned Llano APU with up to four cores.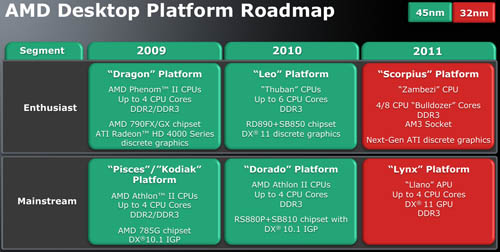 The Bulldozer-cored Zambezi could make the Scorpius platform a stinger
Overall, AMD has great hopes for its Fusion strategy, which the company claims will provide not only superior multimedia and gaming, but also improved battery life.
And also - although no one was rude enough to mention so directly - if actions taken by the European Commission, the US Federal Trade Commission, and the New York Attorney General temper Intel's allegedly anticompetitive aggressiveness, perhaps a more level your-product-versus-mine playing field will allow AMD to Bulldoze a firmer market-share foundation. ®
Bootnote
AMD's APU is not to be confused with Apu Nahasapeemapetilon, Jr., Ph.D. of Simpsons fame.