Toshiba Satellite L450
Cheap and cheerful
Review Pick up the Satellite L450, or even just glance at it, and you're left in no doubt that it's very much a budget laptop. Chunky, plasticy and devoid of any bells and whistles, it's not going to appeal to those who like their laptops to stand out from the crowd.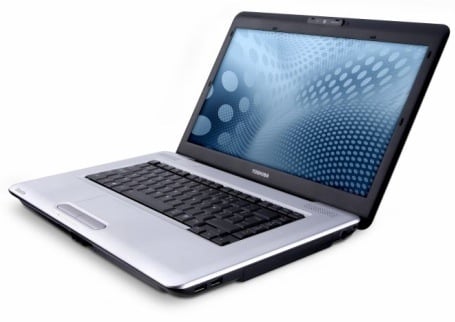 Toshiba's Satellite L450: it's not stylish, but it is dirt cheap
It is, however, dirt cheap, and the L450-137 model we've got our hands on here retails for just £379. For this, you get an Intel Celeron T3000, 3GB of DDR 2 memory and integrated Intel GMA 4500M graphics core, along with a 15.6in widescreen display.
Toshiba's gone for a simple matte-silver finish for the lid, interrupted only by the company's logo. A large hinge stretches along the bottom of the display, giving the lid a sturdy feel. The display's bezel isn't quite as well made, though, and feels very rough when running your finger around the edges of it.
Flip open the lid and, without any media shortcut keys to accompany it, the keyboard looks very lonely. Each function key is assigned a second task – such as turning Wi-Fi on and off – but we were dismayed to find these didn't work on our review unit. We eventually resolved this by downloading the latest Toshiba Utility from the company's support site, but it's not the kind of hassle you expect to be put through with a brand new laptop.
The keyboard layout is good, with decent-sized arrow keys and the Page Up and Page Down keys sitting within easy reach at the right. As with many budget keyboards, flex is an issue here – especially in the middle of the keyboard – and typing therefore has a spongy feel to it. The trackpad is impressive, though, and responds well even to light touches, but it's not multi-touch so there'll be no two-fingered gestures.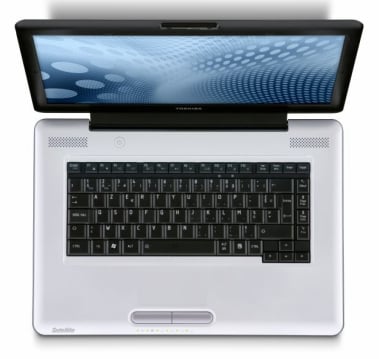 Good keyboard layout, but it flexes too much
Toshiba has given the 15.6in, 1366 x 768-pixel screen the glossy treatment. This boosts colour vibrancy, but it's not the brightest display we've cast our eyes over. Viewing angles are poor too, both horizontally and vertically, requiring you to sit straight-on to the screen or suffer a drop in brightness and clarity.