Britney Spears' Twitter profile was again seized by hackers on Thursday.
Pop-savvy malefactors broke into her account to post a message apparently suggesting the troubled pop star had sold her body and soul to Satan in the hopes of speeding up the apocalypse.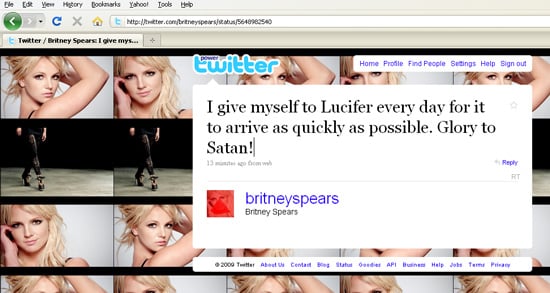 Oops, they did it again
The tactics employed by the hack are unclear but illustrate that verified accounts might offer a mechanism to prevent naughty nonentities posing as celebs, but aren't much defence against hackers hijacking profiles.
The attack is at least the third to corrupt the star's micro-blogging feed. Followers of the singer were told in January that her vagina was four feet wide "with razor sharp teeth". A fake Twitter update in June falsely stated that Spears was dead.
Rik Ferguson, a security researcher at Trend Micro, was among the first to notice the latest Britney hack. He joked: "I'm thinking maybe she thought she was sending a DM [direct message]?" ®