This article is more than 1 year old
Boffins develop virtual reality anti-bullying game
One in the eye for the Muntzes
Boffins at Warwick University* have claimed their virtual reality bullying simulator will help victims cope with the stress of being taunted.
FearNot! creates a virtual school with 3D pupils that can be set to bully, look like an easy target or sit meekly in fear of attracting unwanted attention.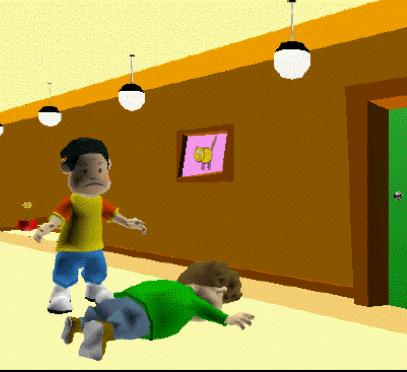 Intelligent agents
These virtual bullies, victims and bystanders are then used to "improvise real-life bullying incidents". With the virtual classroom bear pit set in motion, real children can wade in with their own ways to deal with the virtua-bullies.
Acting out verbal and physical bullying scenarios, virtual kids do not follow script and are "intelligent agents" that learn from their past experience. So the real world kids can't get amusement from convincing the on-screen weed to fight the Neanderthal who lurks in the back row.
Primary school kids tested in the UK and Germany were found to experience a 26 per cent decrease in "victimisation" after having used the software. Presumably that makes the remaining 74 per cent of victimisation more tolerable.
Interestingly, the UK kids responded better than German kids. According to lead researcher Professor Wolke, this is due to kids in the UK starting school earlier and having "a higher reading age".
Sadly the study also found that this reduction was short-lived. But the professor suggested longer term use of the software would help to sustain the positive results. So taking kids out of class to play games will help them stop being bullied when back in the class?
The professor also suggested that this kind of software could also help other kinds of social problems like social anxiety.
At least, any kind of software that needs repeated use in order to allow a limited respite for those with social dysfunction has to be a better alternative than WoW.
*EU project coordinator Ruth Aylett got in touch to say that Warwick boffins did not act alone. Aylett said: "The technology development was carried out by the Universities Heriot-Watt, Sunderland and Hertfortdshire in the Uk, Augnsburg in Germany, the research centre INESC-ID in Portugal and the company Interagens in Italy. The evaluation reported by Warwick also involved colleagues at Universities in Bamberg and Wuerzburg in Germany. And none of this would have happened without funding from the EU FP6 programme. Credit where credit is due please!"
Happy to oblige. ®