Apple snuffs iPhone app for too much Appleness
'Devs can't use pics we give to devs'
A longtime Mac developer has walked away from the iPhone App Store after Apple's app police spent three months deciding to reject the developer's application for using Apple images meant specifically for developers.
The latest victim of Apple's capriciousness is Rogue Amoeba Software (tagline: "Strange Name. Great software."), which offers audio software and utilities such as Audio Hijack Pro and Nicecast.
The app that ran afoul of Apple's App Store police was the iPhone client for Airfoil, a utility for Mac and PC that allows you to wirelessly stream synced audio from a host of apps to other Macs and PCs, plus to other devices such as the Apple TV, AirPort Express, and, yes, the iPhone and iPod touch.
Airfoil Speakers Touch version 1.0 was accepted by the App Store police with nary a niggle, but when Rogue Amoeba submitted a bug-fixed version 1.0.1 back in July of this year, things got weird.
As explained in a company blog post, version 1.0.1 was rejected - even though version 1.0 remained available on the App Store. The reason for the rejection, Apple told the developers, was because the app used Apple-owned images. As the iPhone development agreement says:
You may not use the Apple Logo or any other Apple-owned graphic symbol, logo, or icon on or in connection with web sites, products, packaging, manuals, promotional/advertising materials, or for any other purpose except pursuant to an express written trademark license from Apple, such as a reseller agreement.
Airfoil Speakers Touch used Apple-supplied icons and product images to indicate the type of machine from which the app was receiving a stream - a Mac Pro image, for example, when a Mac Pro was providing the stream - and an application icon to indicate what app was sending the stream - Safari, for example.
As Rogue Amoeba points out in its blog posting, these images are supplied by Mac OS X itself. "These [image-calling functions] are expressly made to enable developers to get this artwork, and use it just as we are," they note.
Thinking - understandably - that a simple mistake had been made, Rogue Amoeba resubmitted the app. No luck. It took a full month for Apple to mull its response (during which, by the way, Airfoil Speakers Touch users were still using the buggy version 1.0, and the developers continued to lose face), but the app was again rejected on August 31.
At this point, as the blog notes: "We knew we needed to talk to a real person. Perhaps, we reasoned, an app reviewer was simply reading their guidelines and following them overzealously."
Perhaps. Following another developer's advice, they sent an email to the problems-only dev-help desk at appreview@apple.com asking for clarification. They were told to resubmit.
They did, and in mid-September, they were told that the review was "taking longer than expected," but were supplied with no other info. On September 21, they asked again what the hold-up was, and they were told that the app was "still undergoing a review process" - but nothing more.
In early October - which, the post reminds us, was almost two and a half months since the original submission - the app was again rejected. The developers' hopes were, however, raised by a phone call from an Apple employee who said he wanted to "to take another crack" at getting version 1.0.1 approved as-is.
No such luck. In mid-October, the same employee called them back and said he hadn't succeeded in convincing the App Store police to allow the update. At this point, the Amoebans threw in the towel and removed the helpful Apple-supplied images and icons from their update.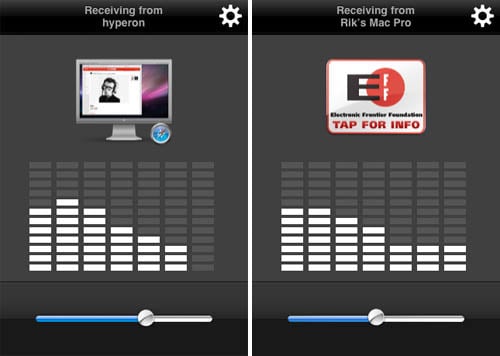 Where an Apple-supplied image once appeared (left), you'll now find a link to the EFF (right)
The image-deprived but bug-fixed Airfoil Speakers Touch version 1.0.1 is now available on the iTunes App Store. However, when you use it to connect to an Apple audio source, the images and icons are replaced by the logo of the Electronic Freedom Foundation, which when tapped launches iPhone's Safari browser and takes you to a page on the Rogue Amoeba website that briefly describes this sordid saga and suggests that you make a donation to the EFF.
We had hopes that the App Store approval process was improving - especially seeing as no less a vaunted personage than Apple's senior vice president of marketing, the voluble Phil Schiller, had injected himself into the frouferah not once or even twice, but thrice.
But in light of Rogue Amoeba's experience, it seems the App Store approval process remains as drawn out and opaque as ever. So much so that the entire episode has driven the Amoebans away from the iPhone platform completely.
As their company blog notes, "The chorus of disenchanted developers is growing and we're adding our voices as well. Rogue Amoeba no longer has any plans for additional iPhone applications, and updates to our existing iPhone applications will likely be rare."
Perhaps Apple, with 100,000 apps bulging under its App Store belt, just doesn't care. ®
Bootnote
An app prized by Mac historians, Mactracker, is available in versions for Macs, PCs, and iPhones. The Mac and PC versions include images of Macs throughout the ages. The iPhone version doesn't. Mactracker's developer didn't immediately respond the The Reg's query about whether he, too, was a victim of the App Store police.