This article is more than 1 year old
Apple pen-tablet plan revives Newtonian handwriting
Microcosmic God at work
An Apple patent filing may point to pen-based handwriting recognition in Cupertino's oft-rumored tablet/netbook/media-pad/ebook/whatever.
Or it may not.
Published on Thursday, the filing carries the rather prosaic appellation: "Method and Apparatus for Acquiring and Organizing Ink Information in Pen-Aware Computer Systems"
The Reg spoke with one of the patent's authors, Larry Yaeger, who was the technical lead on the development of the Apple Newton's second-generation handwriting-recognition technology, known as Print Recognizer and remembered by Newtonians as the one that worked - as opposed to the much-ridiculed first-generation system that helped sink the pioneering Apple handheld.
According to Yaeger, today's patent filing contains a rework and resubmission of rejected portions of an earlier Apple handwriting-recognition patent, number 7,564,995, "Method and apparatus for acquiring and organizing ink information in pen-aware computer systems," which was filed in March 2000 and awarded in July 2009 - "if I am parsing the uspto.gov web site correctly," says Yaeger.
When asked if today's patent filing might mean that pen-based handwriting recognition would be included in Apple's rumored tablet, Yaeger - who has left Apple and is now Professor of Informatics at Indiana University - told The Reg: "I don't know - and believe me I wish I did."
Today's filing is fiendishly complex, but essentially it describes a recognition technology based on a system able to identify not merely a pen's strokes, but to organize those strokes into what the filing describes as "ink phrases." An "ink manager," which includes an "ink phrase termination engine", passes the ink phrase to a handwriting recognition manager, which parses the identified phrase, identifies its meaning, and passes it off to an ink-enabled application.
One advantage of phrase-based recognition, according to the filing, is that such as system can more-easily associate the content of a user's strokes with the context of a form, display area, or field, even when "one or more ink strokes (including the first ink stroke) is wholly or partially outside of the input field."
An illustration lifted and gussied-up from the original 2000 filing for use in today's version indicates how different areas on a tablet's display can be identified by the ink manager. The filing also notes that the ink phrase termination engine can determine when a stroke phrase has been completed in a designated area, thus helping increase the accuracy of the stroke-phrase recognition.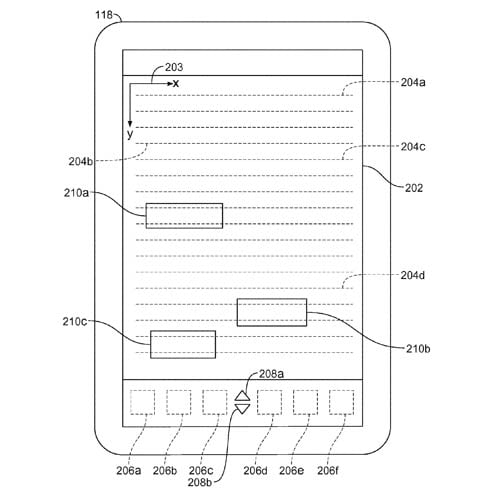 A tablet's display can help identify whether a pen-input phrase has been completed
Although such gesture-based, multi-touch interfaces as used in Apple's iPhone and iPod touch - and, for that matter, MacBook trackpads - have the unarguable convenience of finger-tip control, pen-based input can be far more precise.
And Apple hasn't abandoned pen-based input entirely. Take a look, for example, inside your Mac's System/Library/PreferencePanes folder, and you'll find an item labled Ink.prefPane. It's waiting there for you to hook up a compatible graphics tablet. Doing so will fire up Mac OS X's built-in handwriting-recognition technology, Inkwell, which not only will convert your handwriting into English, French, or German text, but which also supports editing gestures for selecting, editing, and deleting text.
And so if Mac OS X is ready for handwriting recognition, will an upcoming tablet incude it as an optional text-entry method? Doing so could not only allow for text entry in a manner more comfortable to some than an on-screen soft keyboard as used by the iPhone and iPod touch, but could also better support forms-based input that could find the tablet a home in medical, industrial, and transportation settings.
Yaeger hopes so. Understandably, he'd like to see his work find a home in a ground-breaking Apple product. "I really, really hope it's a pen-based tablet computer," he told The Reg, but again admitted "but I just don't know."
But - like any true Apple-gadget lover - Yaeger wants more; namely, a tablet that'd also allow him to carry his reading collection. "The thought of an Apple-provided pen-based tablet computer that's also the world's best ebook reader would be a dream come true," he mused. ®
Bootnote
When Larry Yaeger was a Distinguished Scientist at Apple's Advanced Technology Group - the highest position on Cupertino's technical track - his business card gave his title as Microcosmic God. Ah, Apple in the good ol' freewheeling 1990s...