Dell has officially announced its first branded smartphone – the Mini 3i.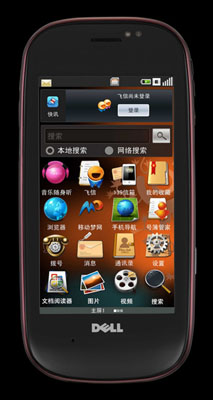 Dell's Mini 3i will appear in China later this month
The PC manufacturer hasn't released a list of the phone's technical specifications - perhaps an indication that Dell executives have yet to sign off on the Mini 3i's features.
However, the firm has confirmed that the Mini 3i is based on the oPhone platform - a China Mobile developed smartphone platform based on version 1.5 of Android, the latter meaning that developers can use both the oPhone's API and Android's API to write oPhone applications.
Mini 3i was fondled - albeit in concept form, at least according to Dell – at a China Mobile event back in August, at which point it emerged that the smartphone had a 3.5in screen, 3Mp camera and 2.5G connectivity support.

Mini USB features, we at least know
Dell has, so far, only said that its smartphone will be launched into China this month through carrier China Mobile. Brazil will be second on the list in December, Dell added.
Plans to pitch the Mini 3i into Europe haven't been confirmed, but Dell already has "existing agreements" with the likes of Vodafone in Europe – so we'd wager that a UK Mini 3i launch isn't totally out of the question. ®