Novell targets netbooks with latest OS
OpenSUSE 11.2 tugs at Karmic Koala's fur
---
Novell has released openSUSE 11.2, just a few short weeks after Ubuntu 9.10 - aka Karmic Koala - landed.
The latest version of the operating system clearly signals Novell's intent to scoop up some share of the nascent netbook market.
OpenSUSE 11.2 comes loaded with version 2.6.31 of the Linux kernel, while the default file system of the OS has been switched to the new Ext4. However, support for Ext3 and other file systems is available, too.
Novell has slotted a desktop kernel into the OS for this release and it includes versions of KDE 4.3 and GNOME 2.28.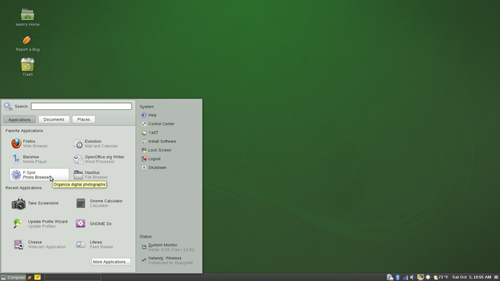 Green-eyed monster
In August, openSUSE confirmed it would default to the KDE desktop in the install process for its 11.2 release.
Although SUSE Linux had historically been a major backer of KDE, the desktop environment was given equal weight to GNOME after Novell acquired SUSE Linux in 2004.
At the time of that announcement, openSUSE developers insisted GNOME wouldn't be left behind in the latest release.
As we reported earlier this week, GNOME 2.30 is expected to land in March next year.
Developers have also created an OS that Novell hopes will encourage take-up of the free, open source software on diminutive computers.
"openSUSE 11.2 also includes new and updated drivers for your hardware, meaning more and newer devices work with openSUSE. In addition, special attention has been paid to the netbook market, and new drivers enable openSUSE to run better on a wider range of netbooks," said the firm. ®