This article is more than 1 year old
Olympus PEN E-P1 Micro Four-Thirds camera
Grown-up compact for DSLR lovers?
Review Nostalgia isn't what it used to be. We used to looked back at past technologies with fond memories, but be grateful that we lived in the modern world. Now, it seems, some of us want a piece of both the past and the present, with gadgets combining an old exterior with a modern interior.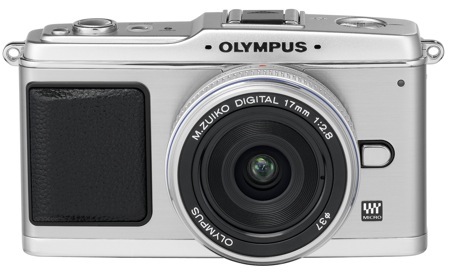 Olympus' PEN EP-1: not your dad's camera - even though it looks like it
Take the number of DAB radios designed to look like products from the 1950s. And take the Olympus PEN E-P1, a camera that looks like something your parents would have used back in the 1960s, yet one that uses one of the latest digital camera technologies, Micro Four-Thirds (MFT).
Developed by Olympus and Panasonic, MFT cameras use a 4/3in image sensor with an effective imaging area of 17.3 x 13.0mm. This is smaller than the sensors found on digital LSRs but much larger than those used by compact cameras.
Like DSLRs, the MFT format uses interchangeable lenses, but it reduces the camera body size by eliminating the single-lens reflex mirror box and using an all-electronic viewing system. In other words, the PEN E-P1 is aimed at the enthusiast looking for DLSR-like performance from a smaller, more portable camera. You can find out more about Micro Four-Thirds here.
When we looked at Panasonic's MFT camera, the Lumix DMC-G1 - reviewed here - we noted how the company had designed it to look like a DSLR. Olympus has gone even further, basing the PEN E-P1's design on the PEN half-frame 35mm camera launched in 1959. If you like the retro look, you'll love the PEN E-P1's appearance.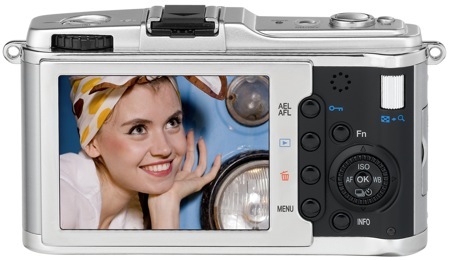 Missing in action: there's no electronic viewfinder
We happen to think it looks and feels great, with our sample having a chrome body, brown leather shoulder strap and fake leather finger grip at the front. The photos show the general control layout. Underneath is a 12.3Mp (effective) sensor and a "Super Sonic Wave" dust cleaning system. The shutter speed runs from 1/2000 to 60 seconds, ISO from 100 to 6400.