This article is more than 1 year old
Olympus PEN E-P1 Micro Four-Thirds camera
Grown-up compact for DSLR lovers?
The E-P1 uses SD/SDHC cards - Olympus has ignored its xD card format - and a lithium-ion battery with a CIPA rating of 300 shots - 100 per cent with Live View. You can shoot JPEG and RAW files, and record AVI Motion JPEG movies in 720p HD at 30f/s and at 640 x 480. No surprises that there's a mini HDMI port, but no HDMI cable. However, you do get Olympus Master 2 photo editing and management software for both PC and Mac.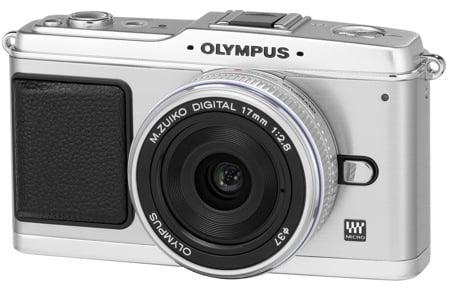 Go for a pancake lens (above) or the 14-42mm kit lens
There are currently two choices of MFT lens for the PEN E-P1: a 3x optical zoom in the shape of an f/3.5-5.6 M. Zuiko Digital ED 14-42mm lens equivalent to 28-84mm on a 35mm camera, and a 17mm fixed focal pancake lens, equivalent to a 34mm fixed focal lens on a 35mm camera. Our sample came with the former. You can also use full-size Four-Thirds lenses and Olympus OM lenses with adaptors, but as things stand, there aren't that many dedicated lenses available for the PEN E-P1.
The PEN E-P1 measures 120.5 x 70 x 35 mm and weighs 335g. That's the body alone - load it up with the 3x zoom lens and battery, and the weight rises to around 550g. In other words, it's small, but not that small.
When fully extended, the 3x zoom lens juts out from the camera body by around 80mm, but Olympus uses a cunning a collapsing lens system to reduces this by about half. On the lens barrel is a tiny locking slider which is used to retract the lens. If you want to extend the lens, simply twist the main ring on the lens barrel – there's no need to use the locking control. This helps make the PEN E-P1 more compact, but it also means you have to remove the lens cap and unlock the lens before you can start shooting – not ideal if you want to take a quick shot.
You get a good-sized, 3in LCD screen, but it's composed of a measly 230,000 dots, which is disappointing on a product of this type and price. Sure enough, resolution is coarse and it's not great to view when shooting in bright light. And there isn't even an electronic viewfinder to assist you.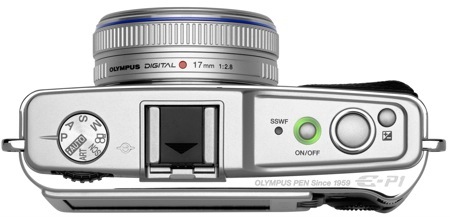 The hot-shoe is essential - there's no built-in flash
Olympus also seems to have adopted the 'low-fares airline' approach to pricing - ie. lots of optional add-ons - with the PEN E-P1, offering an optical viewfinder as an optional extra - note that it only works with the 17mm lens. Oh, and there's no built-in flash, but you can purchase an optional flash unit.