This article is more than 1 year old
Olympus PEN E-P1 Micro Four-Thirds camera
Grown-up compact for DSLR lovers?
In terms of performance, the PEN E-P1 proved to be impressive in some areas, but less so in others. Let's start with the positive. This camera is capable offering excellent image quality, with sharp, clean images and vivid colours. We especially liked its performance when taking landscape shots. Noise levels are also low, even at ISO 800. The lens quality is superb, with minimal chromatic aberration or distortion.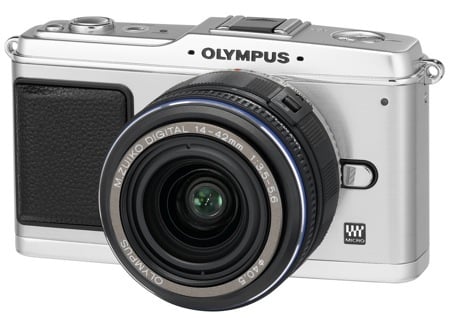 The compact 14-42mm lens does not make for fast shooting
The 3f/s continuous shooting mode isn't the fastest around, but it worked well and you can take an unlimited number of JPEG shots - RAW files are restricted to ten frames. The image stabilisation system is highly effective, offering around three stops of compensation.
But the camera is let down by a sluggish contrast-detection AF system, which takes a while to settle down. When taking a close-up shot of our euro coin, the AF system often took ages to lock onto it.
The AF system also let down the PEN E-P1's video performance, with the continuous AF mode having problems tracking objects. You do get a good range of high ISO settings for low-light shooting, but picture quality soon tails off after ISO 2000.
Verdict
When we looked at the Lumix DMC-G1, we asked whether the MFT system was in danger of falling between two stools. The PEN P-E1 merely confirms these fears. It's too big to appeal to the compact camera user looking to upgrade, and the lack of a built-in flash will also put off a lot of potential buyers from this camp. Conversely, it doesn't offer a massive size advantage over a DSLR, and while many enthusiasts won't be put off by the lack of a built-in flash, they will be deterred by the absence of a viewfinder and a shortage of MFT lenses.
This is a shame, because the PEN P-E1 has the makings of a fine camera, although some of its ergonomics need fixing. The problem is that MFT manufacturers seem to be trying to make cameras that will appeal to purchasers from both the compact and DSLR camps, and in the process, they are in danger of appealing to no one. ®
More Camers Reviews...

Nikon
D3000

Sony
Cybershot
DSC-HX1

Canon
EOS
500D

Ricoh GR
Digital III

Olympus PEN E-P1 Micro Four-Thirds camera
It's not a compact, it's not a DSLR and, in theory, should have wide appeal. But the E-P1 is in danger of missing the target with many potential buyers, despite offering some useful features and a good performance.
Price:
Body only: £599. 14-42mm lens kit: £699 RRP