Review Installing a second operating system on a PC is nothing new. Plenty of manufacturers have done so before, building a slimline Linux distro into their machines to provide a much more rapid start-up than Windows can manage: full access to the internet within seconds of pressing on power key.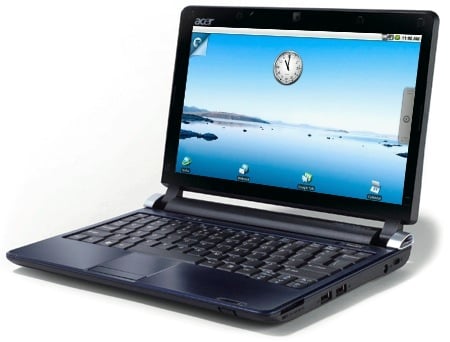 Acer's Aspire with Android: fast start for Google, slower boot to Microsoft
What sets Acer apart is its choice of secondary OS: Google's Android, an operating system usually found in smartphones, but here pressed into service the way Asus has used SplashTop, Sony has used XMB and Dell has used Latitude On.
All of these services play second fiddle to Windows, and Acer's Android offering is no different. Right from the outset, Android is junior partner to the Microsoft OS. Switch the machine on - it's an Aspire One 10in D250 netbook, almost exactly like the one we reviewed here - and alongside the regular invitation to enter the Bios setup screen by pressing F2, you have the chance "to enter Windows OS" by pressing F9.
You have to be quick, though. If you're too slow, or you keep your mitts off the keyboard, the familiar Google 'droid appears, cheekily peering up at you from the bottom right corner of the screen. Within seconds - 18.9, to be precise - you're facing the Android UI.
That start up speed is nice - Windows XP took 54s, from pressing the power key to the last of the System Tray icons being loaded - though it's not really what we'd call instant on. But we're less keen on what it brings you. This incarnation of Android - provided by Bios maker InSyde - is disappointingly basic.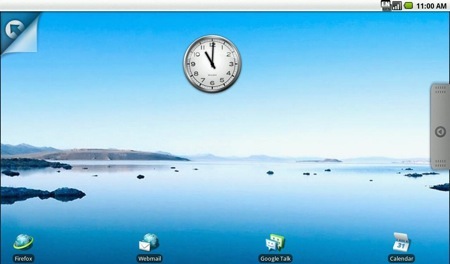 The D250's Android UI is largely like the smartphone interface
If you've tried an Android phone, the UI will be familiar: the analogue clock, the notification bar up top and the desktop space that's larger than the screen. Here you click and drag to the two other areas - there are three in a row - rather than swiping with your finger. This is one netbook that really could do with a touchscreen.
Similar topics