Working with a mouse rather than a finger makes for a less fluid experience. Worse, you'll need to use the keyboard too. Ever present on the right side of the screen is a tab you can click on to slide out a tray of pre-installed application icons. All of them launch with a single click. In the case of Settings, that click presents a full-screen list of options. You can click on any entry to display - again, full screen - the sub-menu. Further clicks take you down through the menu hierarchy.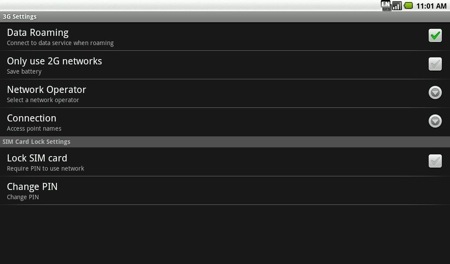 The menu lists are easy to navigate - when you figure out how
But to get back you have to hit the Esc key - there's no 'back' arrow to click. If the menu has more entries than the screen can show at once, you'll see what appears to be a vertical scroll bar but is actually just a visual guide - clicking on it has no effect. You click and hold to drag the menu up or down, a move you'd make naturally on a tablet but not with a mouse. If you get that far: the item underneath the pointer will highlight, so you think you're selecting something and you let go. We spent ages using the arrow keys to scroll up and down list before we discovered the click-and-drag manoeuvre.
The main screen has four icons along the bottom - all taken straight from the original Aspire One's Linpus OS and they weren't particularly attractive when they appeared over 18 months ago - to fire up a version of Firefox unfortunately called Minefield, plus Webmail, GoogleTalk and Calendar. The last two require a Google account - if you don't have one, you're encouraged to set one up when you first launch Android - but Webmail will work with a variety of other providers. There's a separate Email app for POP and IMAP accounts, and it'll configure most accounts with just the email address and password.
Clicking and holding Email's icon allows you to drag it off the Applications panel and onto the desktop, and you can move those already there around in the same way, though the snap-to-grid mechanism spaces them so far apart you'll have to use multiple screens if you want more than a dozen of them.
Or fewer still, if you add widgets, which take up more screen space than their pixel dimensions would suggest. Widgets you can choose from: the clock, a Google search bar, a (static) picture frame, a music playlist and a calendar. Right now there's no Android Market app so there's no easy way to download more apps or widgets. Not that with a three-screen desktop you have room for many more.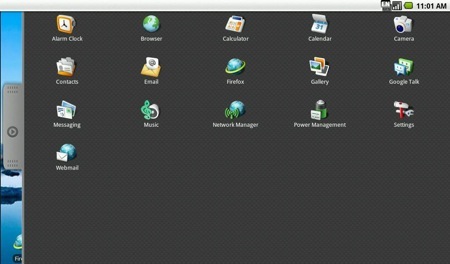 Click the right-side tab for the application list
The apps that are included provide quick access to the D250's Wi-Fi, Bluetooth, 3G modem and webcam. You can view photos and play music, but not video. Unlike other quick-boot OSes, this one won't list media stored on the netbook's Windows C: partition, which frankly makes it next to useless. Who wants to keep two copies of everything, one for Windows, another for Android?
Similar topics