Android here does have some nice touches, and it's largely a good looking UI. We mentioned the ease of setting up Email, and both Wi-Fi and 3G are eminently usable for wireless internet connectivity. The integrated Huawei 3G modem is unlocked, so stick a Sim in the slot under the battery and you're away. You can manage the modem in Android and in Windows.
But it's the little things that irritate. Some 14 wallpapers are included, but only one is sized to fill the D250's 1024 x 600 screen. You can add email accounts easily enough, but you can't delete them. Clicking icons in the menu bar calls up the Notifications screen, it doesn't take you to the appropriate Settings panel. You can't create a Google account in Android if you didn't do so during the set-up process. It's sluggish, not zipping along as merrily as you'd expect a pared-down Linux distro to.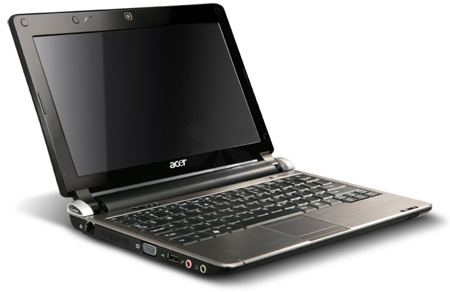 Nice netbook - but go for the six-cell battery
We should mention the hardware before we go. We liked the D250 when we reviewed it as a standalone Windows XP netbook and our opinion hasn't changed. We re-ran PCMark05 and got exactly the numbers we expected for this D250's 1.6GHz Atom N270 CPU - the previous one had a 1.66GHz N280 in it.
Hard drive, memory and 3G modem are easily accessible through hatches in the D250's base. The glossy screen is nice and bright. The keyboard isn't bad and while the touchpad is a bit on the small side, that's par for the netbook course. Only the battery lets it down - 2200mAh is too small for a device that'll be used out and about - but at least there's a 4400mAh option.
Acer should either release a netbook that uses Android as the primary OS, just as it used Linpus for the first Aspire One. We liked Linpus - it wasn't a geek's OS, but it did the job for everyone else, keeping the machine simple and consumer-friendly. Android could do the same but at scope of third-party apps to increase the machine's functionality.
Verdict
We were hoping for so much more. Android on phones is a powerful, highly customisable OS with a growing selection of third-party apps. On Acer's dual-OS Aspire One D250, it's just a basic front-end for quick web, and music and photo media access. We knew from that start that's what it was there for, but did they have to limit it quite so much?
This is not, and probably never will be, a true Android netbook. The OS here isn't on a par with Windows, in terms of functionality or role. We like the hardware - the D250 is a nice netbook - but this version really doesn't improve on the basic, cheaper model. ®
More Netbook Reviews...

Fujitsu
M2010

Packard Bell
dot m/a

Dell
Latitude
2100

Samsung
N110

Acer Aspire One D250 with Android
This is a nice netbook, and having a quick-boot alternative to Windows is nice to have. But it's far from essential and neither is it a full OS. The true Android netbook, it ain't.
Price:
£250 (Windows 7) £280 (Windows XP, 3G) RRP
Similar topics