Judge Dredd 'Black Box' recorder/spy kit for guns unveiled
An accident you say, sergeant? But you reloaded. Twice
A major weapons manufacturer has exhibited a so-called "Black Box" which could be fitted to small arms - for instance rifles or submachine guns - and record details of every shot fired, potentially including location, target and even user identity.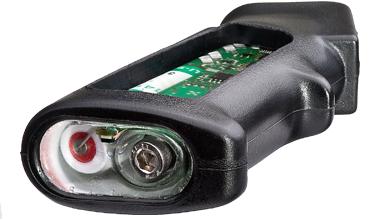 Government spy kit invades the last bastion of freedom.
The Black Box has been developed by Belgian-headquartered company FN Herstal, a famous name in the gun world. The new gizmo goes on show tomorrow at the MILIPOL securo-expo in Paris.
The idea is that the Black Box electronics would be installed internally in a void space such as the pistol grip of an assault rifle. (It "fits in any weapon type", apparently.) The gadget would run on a non-replaceable battery lasting ten years or 100,000 shots - covering the weapon handily between major overhauls.
The initial uses of the Black Box would, according to FN, be in logistics and maintenance. The in-gun shot counter would keep track of how many rounds were being fired, updating a future soldier's digital comm/puter system - Land Warrior or some similar rig - as it went, using some form of wearable networking.
Not only would the soldier then know automatically how many shots he had fired without the need to keep count or look at his magazines and pouches, but so would his team leader - and higher commanders would be warned in advance if their people seemed likely to run out of ammo.
From the armourer's point of view, a permanent record of how many rounds a gun has had put through it would be invaluable - and even more so, the knowledge of how rapidly they had been fired. Various parts of a weapon degrade much more rapidly when a gun is being fired fast, owing to the high temperatures reached. The Black Box would also keep a record of stoppages as well as successful shots, which would help in identifying faults.