Microsoft donates .NET Micro Framework to open source
Apache mercy killing
---
Microsoft has released part of its .NET Framework - the part for internet-connected smart devices - into the open-source community.
The company said on Monday that it's releasing source code for the .NET Micro Framework under an Apache 2.0 license. Microsoft is also creating a community of "interested and involved members to help shape the future direction of the product." The community's web site was still under construction at time of the announcement.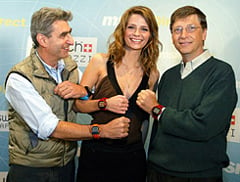 Happier times: Bill Gates and friends wearing
an early version of the .NET Micro Framework
But don't get too excited. You won't be getting the full .NET Micro Framework stack, as Microsoft's open-source code donation will lack the TCP/IP stack and cryptography libraries. Microsoft said the former has been licensed by a third party, so Microsoft can't release the code, while the latter Microsoft has decided is "used outside of the scope of the .NET Micro Framework." You'll have to use your own alternatives.
Microsoft's embrace of open source follows the company's announcement in May that it was, ahem, changing the .NET Micro Framework's business model after it announced it was cutting 3,000 staff. The company said that it would kill off royalties from distribution of Framework and that the platform would become a community-supported project.
Program Manager Colin Miller vowed Monday on Microsoft's Port 25 blog that Microsoft will remain actively involved in NET Micro Framework's ongoing development, working alongside the community.
The .NET Micro Framework never lived up to the early promise. It morphed out of the Smart Personal Objects Technology (SPOT) unveiled by Bill Gates during his keynote address at the January, 2003 Consumer Electronics Show (CES) in Las Vegas, Nevada.
The idea was for internet-connected watches and coffee makers capable of updating you on the weather and your stock while while giving you the time or brewing up a cup of instant. After from some initial interest, though, the watches and coffee makers never really clicked.
In an earlier blow to SPOT and the .NET Micro Framework, Microsoft announced last month that the data-network-powering SPOT-based services known as MSN Direct will finally be switched off in 2012. ®