The world's first supersonic stealth jumpjet, intended to replace the famous Harrier in British, US and other forces worldwide, has arrived at the American airbase where it will finally begin to flight-test its vertical-lift and hover capabilities.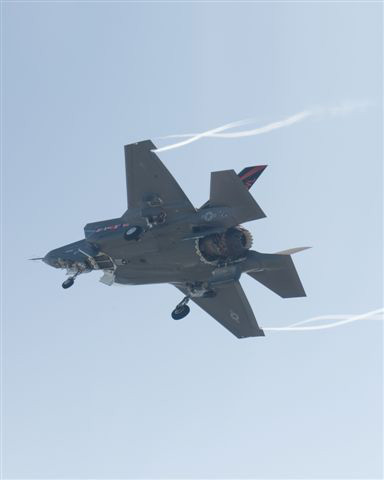 Doors open - but nothing coming out until now.
The F-35 "Lightning II" B model will, like other versions of the same aircraft, offer supersonic performance and stealth technology - a combo so far offered in only one aircraft in the world, the famous F-22 Raptor ultrasuperfighter. But the F-35B, unlike its tailhook and normal-runway counterparts, is also equipped with a central lift fan mounted in a shaft through the fuselage and can swivel its jet exhaust downwards too.
This means that an armed and fuelled F-35B should be able to make a very short takeoff run to get airborne and then, having burned fuel and perhaps released weapons, make a vertical landing supported entrirely by engine thrust. This Short Takeoff and Vertical Landing (STOVL) capability has so far been offered in the Western-aligned world only by the famous Harrier, originally developed in Britain and now in service with the RAF, the Royal Navy and the US Marines.
STOVL means that an aircraft can operate from a cheaply-built carrier at sea, one without catapults or arrester wires, of the type used by and planned for the Royal Navy and US Marines. It also permits such a jet to operate from a quickly-improvised airstrip ashore, or in some cases from ordinary runways which are too damaged or run-down for conventional aeroplanes to use.
The first F-35B took to the air for the first time last year, with a British test pilot at the controls in recognition of the UK's involvement in the project (Rolls Royce make the lift machinery which attaches to the engine and may get to make some actual engines in future, and BAE make a fuselage section and other parts). This aircraft, "BF-1", should long ago have started trying out its vertical-thrust features in the air, but it has so far flown only as a normal runway aircraft. (Doors and lids have been opened in flight, and a successful ground hover-pit test was announced in April, but actual vertical thrust has not been used significantly in the air.)