It's now official. The new generation of high-tech hovering aircraft - namely the famous V-22 "Osprey" tiltrotor and the upcoming F-35B supersonic stealth jump-jet - have an unforeseen flaw. Their exhaust downwash is so hot as to melt the flight decks of US warships, leading Pentagon boffins to look into refrigerated landing pads.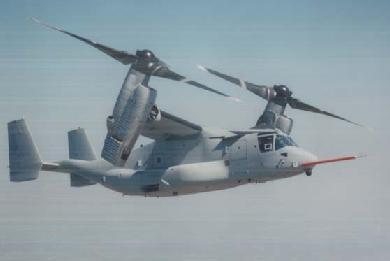 Talk about a hot ship
Stories of buckled flight decks caused by Osprey exhaust have been circulating for a while, but confirmation that the issue is seen as serious comes with the issue of a military request for proposals yesterday for "thermal management systems (TMS) for aircraft landing decks".
The proposal makes it clear that the Osprey - which is now in active combat service with the US Marines following a painful twenty-year gestation - has already been fingered as a deck-damaging craft. The F-35B stealth jumpjet, which has just commenced hover flight testing, is also expected to be fielded soon by the Marines, and could be an even worse pad-melter.
According to the request:
The deployment of the MV-22 Osprey has resulted in ship flight deck buckling that has been attributed to the excessive heat impact from engine exhaust plumes. Navy studies have indicated that repeated deck buckling will likely cause deck failure before planned ship life. With the upcoming deployment of the F-35B Short Take Off and Vertical Landing (STOVL) Joint Strike Fighter (JSF), it is anticipated that the engine exhaust plumes may have a more severe thermo-mechanical impact on the non-skid surface and flight deck structure of ships. Currently, there are no available strategies to mitigate deck buckling and thermal-mechanical deck failure other than heavy structural modifications.
The jarheads* will want to operate their new machines from their existing helicopter-carrier amphibious assault vessels, which can't practically be torn apart and refitted with massively reinforced upper decks as this would be likely to make them capsize. Similarly it would be extremely difficult to refrigerate the whole deck from beneath.
Hence the Marines would like someone to invent "a system that can be installed on top of the existing decks", capable of resisting the hot breath of the F-35B and less than one inch thick. It should also, of course, be tough enough not to suffer any damage from the aircraft landing on it. This miracle fridge-sheet assembly should be covered with "thermally stable non-skid" finish - this latter perhaps incorporating "amorphous metal coatings".
For help in the project, the Marines have of course turned to DARPA - really the only people to call when the exhaust of your super-advanced hovership requires a refrigerated landing pad, we'd suggest.
The full solicitation can be read in pdf here. ®
* US Marines are so called owing to their dislike of having any visible hair on the sides of their heads, or any longer than about 1mm on the top. The Marines aren't as tough as they think they are - frankly, nobody could be that tough - but even so, jocular commentary on their coiffure is normally offered only from a safe distance.