This article is more than 1 year old
Sony Reader PRS-300 Pocket Edition
The e-book reader for everyone?
Review With the price of the Reader PRS-600 Touch Edition having been hiked up by 25 per cent over the original PRS-505, Sony clearly thinks there's room for a cheaper alternative. Hence the launch of the Reader PRS-300 Pocket Edition which does without a touchscreen and has a 5in rather than 6in screen.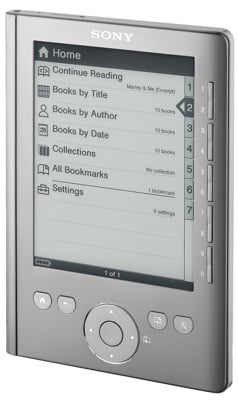 Sony's Reader Pocket Edition:
In the UK, the Pocket sells for £180. While that's a hefty £70 cheaper than the Touch, it's worth remembering that it's only 20 quid less than the old 505 sold for.
Physically, the Pocket resembles a shrunken and tidied up version of the 505. At 107 x 158 x 10mm, it's the same thickness as the Touch, but 14mm narrower and 17mm shorter. At 220g, it weighs a noticeable 66g less.
Without a touchscreen, the controls are once again placed on the device's face, but there are only ten rather than the 17 the 505 had, and the layout is far neater.
The ten number keys from the 505 have been condensed into five rocker buttons, while the navigation keys have been simplified into a circular navpad and four buttons to, respectively, take you to the Home menu, zoom in or out on text – though you only get three size options rather than the five you get with the Touch – add a bookmark, and go back a step.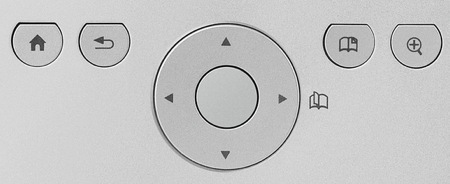 The controls and their layout are better this time round
All in all, it's well thought out and a big improvement on the 505, though the menus don't react quite as quickly to commands as they do on the Touch.