Mobile phones - fighting cancer, causing car crashes
Everybody's free to wear sunscreen while being run over
Boffin Watch New research has shown that people who receive text messages reminding them to use sunscreen are more likely to use sunscreen. However, worrying results from a separate study implies that this positive effect could be negated by an increased likelihood of you being hit by a car.
Research from the University of California has stated that "people who received daily text messages reminding them to apply sunscreen were nearly twice as likely to apply it as those who did not receive such messages". It is hoped that the study into alternative health care practice could lead to adaptations of other consumer technology for health care use.
Quoting statistics from the US National Cancer Institute, the study states that around 1 million new cases of non-melanoma and 70,000 new cases of melanoma are reported each year. Given that the risk of developing skin cancer is directly linked to UV exposure, Dr. April Armstrong and her team wanted to develop a way of increasing sunscreen usage.
Doctor Armstrong states: "Cell phones are a smart way to communicate regularly with patients, because people take them everywhere." Participants of the study were given bottles of surveillance-equipped sunscreen.
Text messages were sent to certain individuals reminding them to slap on the cream, depending on the weather. Researchers "didn't want the people to get message fatigue," however, so they varied the texts, with messages like "Slap on some sunscreen" and "Sunscreen is your friend" cited as examples.
With the snooping-sunscreen bottle reporting back how many times it had been opened, the results showed that people who were sent messages applied sunscreen 56.1 per cent of the time, while those left to their own initiative only used it 30 per cent of the time.
While the study shows that clever phone usage may help to cut your risk of skin cancer, another study shows that it can make you more prone to road traffic accidents.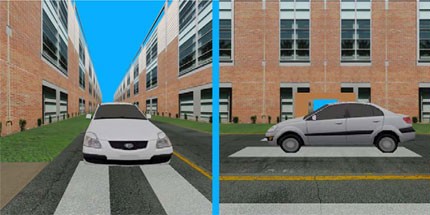 Frogger was desperate to get home to put some sunscreen on
Results from a virtual street crossing study - where users were placed on a treadmill and asked to cross a road in a virtual reality environment - showed that talking on a phone made pedestrians more uncertain and increased the chances of being hit by a car.
The press release from the University of Illinois states:
Music-listeners were able to navigate traffic as well as the average unencumbered pedestrian. Users of hands-free cell phones, however, took longer to cross the same street under the same conditions and were more likely to get run over. Older cell-phone users, especially those unsteady on their feet to begin with, were even more likely to become traffic casualties.
From a related web page the researchers confirm:
Talking on a cell was in fact a distraction, while trying to cross the street but that listening to an iPod was not.
It's not clear as to whether or not an iPhone would be of help or lead to terrible sunscreen related RTA. However for those of you with a sunscreen/texting/road-crossing conundrum, we're sure there is an app for that. ®