Microsoft's on-device marketplace is now available for Windows Mobile 6.0 and 6.1, allowing older phones to download the very latest in farting applications.
Microsoft reckons there are more than 800 applications in the Marketplace: we assume that's worldwide, as the UK offering seems somewhat Spartan. But everything you might want is there* along with the inevitable fart-noise apps that seem to be the killer application for smartphones these days.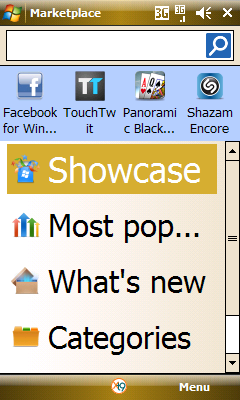 Americans can get a link sent to them by text, everyone else has to go to http://mp.windowsphone.com and have 700KB of internal memory free to download the client, which will then insist on checking for a new version every time it's run. But once one gets past that it all seems to work well enough, and the application-installation process is smooth, though the much-promised operator-billing wasn't in evidence, so transactions are still credit-card-based.
But in tribute to Windows 3.1, it's not possible to specify an installation drive, so we were unable to install most of our purchases due to a lack of memory - despite having paid for them.
Not quite an iTunes-beating experience as yet, but at least those without the very latest handsets can share the joy of making a mobile phone fart on demand. ®
* Except a decent version of Go, for that you'll have to go to Vieka and download manually.