This article is more than 1 year old
AMD intros dual-GPU monster graphics card
Overclockers rejoice
AMD has whipped out its latest top-of-the-line dual-GPU graphics card, as expected.
Dubbed the ATI Radeon HD 5970, the DirectX 11-supporting card can drive up to three displays simultaneously - there are a pair of DVI connectors and a DisplayPort on the back - and one screen at up to 7680 x 1600.
The board's two 40nm GPUs run at 725MHz with each chip's 1GB of GDDR 5 clocked to 1GHz effective and connected over a 256-bit bus.
AMD said the 5790 consumes just 42W at idle, though that leaps to 294W when the thing's cranking out texels ten to the dozen.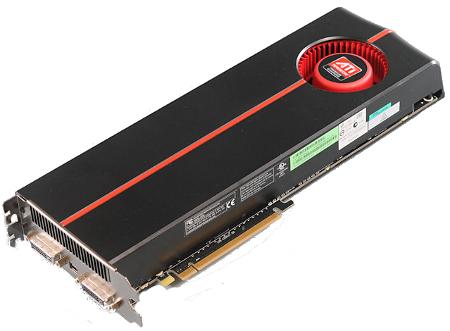 AMD's Radeon HD 5970: two GPUs, huge overclocking potential
Too hot for your PC? The board may be too big too: it's 310mm long, compared to 280mm for the regular, one-CPU Radeon HD 5870 and 245mm for the 5850.
Assuming size, power and heat output of the out-of-the-box 5970 work for you, you'll probably want to try overclocking the board. AMD said the card is "designed for overclocking" with "massive overlocking headroom" thanks, in part, to a vapour cooling mechanism design to take 400W of heat output in its stride.
All the usual suspects among the graphics card vendor community are announcing 5970-based boards even as you read this. ®