This article is more than 1 year old
US Navy electromagnetic mass-driver commences tests
Electric machine will toss off Topguns from 2010
A prototype electromagnetic mass-driver, intended to hurl jet aircraft into the sky from the decks of aircraft carriers, has gone into operation at a former airship base in New Jersey. The new kit could be even more important to the Royal Navy than it will be to the US fleet.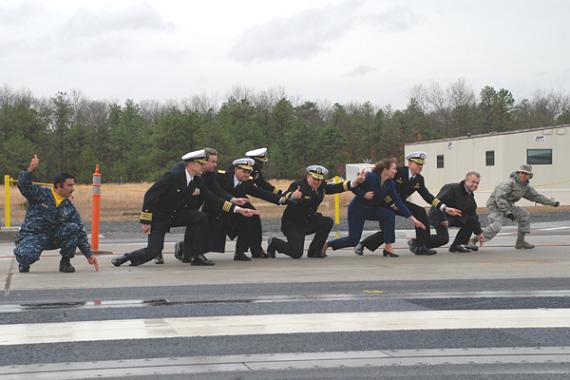 Mass-driver kit for shooting robot jets into the stratosphere.
The equipment in question is known as EMALS, the Electro Magnetic Aircraft Launch System, intended to "shoot" jets and turboprops off the deck of the next US nuclear supercarrier - CVN 78, aka USS Gerald R Ford. The EMALS shore test facility held is first ceremonial "shoot" last week at Joint Base McGuire-Dix-Lakehurst, according to the US Naval Air Systems Command.
Current US and French nuclear carriers, the only ones to use catapult launch, employ steam catapults. The steam cat, a British invention, is powered by steam from the ship's propulsion plant and fires aircraft up to flying speed in a very short distance.
Other methods of deck takeoff are possible: Various nations including the UK operate Short Takeoff and Vertical Landing (STOVL) Harrier jets, able to get airborne after a short takeoff run - often with the aid of a "ski-jump" ramp - and return to the deck, lightened by burning fuel and releasing weapons, in a vertical hovering landing. Russian jets take off by ski-jump from Russia's sole, rather rickety carrier under their own power and land using tail hooks and arrester wires like the French and Americans.
The gold-standard method is catapult launch, as it means a jet can get airborne carrying heavier loads. But the current steam cats are hard on aircraft and hell on maintenance - thus the US Navy's aspirations to move to EMALS in its next carrier.
The electromagnetic cat will be able to deliver much more controllable acceleration and won't be so much work to keep in order. Usefully, newer warships nowadays turn their propellers using electric transmissions rather than mechanical gearing, meaning that the ship can easily furnish plenty of electricity.