Memory and storage specialist OCZ has unwrapped its latest SSD and it's a biggie: the Colossus packs in 1TB of solid-state storage.
The price is enormous, too: $3572 (£2123/€2392) for that terabyte capacity, though cheaper (sort of) 500GB, 250GB and 120GB versions are available for the less well-heeled.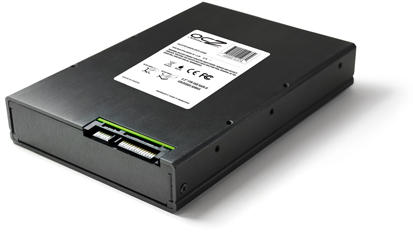 OCZ's Colossus: 3.5in for a change
Unlike most other SSDs, from OCZ and others, the Colossus uses the 3.5in form-factor. They use an Indilinx controller for the Flash and a Silicon Image Raid controller to put the drive's internals into Raid 0 configuration.
OCZ claimed the Colossus' read, write and sustained write speeds are 260MB/s, 260MB/s and 220MB/s, respectively.
Those speeds are for all the drives but the 120GB model, which rates 260MB/s, 260MB/s and 140MB/s.
That model costs $609 - the 250GB and 500GB versions come to $1123 and $1770, respectively. ®
Similar topics