This article is more than 1 year old
Fujifilm Finepix F200EXR
Extra sensory perception?
Review The Finepix F200EXR is the replacement for the Finepix F100fd, which we looked at last January. Although there are a number of similarities between the two cameras – they have the same sized image sensor, optical zoom and camera body – there are some differences too, not least the Finepix F200EXR's new EXR image sensor.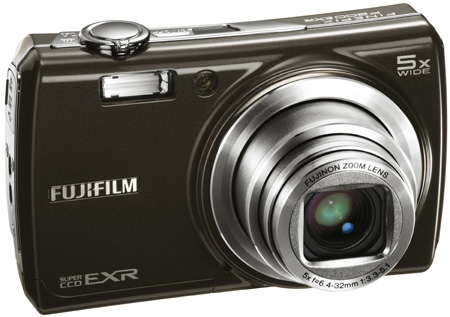 Fujifilm's Finepix F200EXR features an upgraded sensor and advanced processing tricks
This being an F-series camera, the Finepix F200EXR is what Fuji calls an "advanced compact," and is thus aimed at the user who wants to do more than just point-and-shoot. It has a 1/1.6-inch Super CCD HR CCD with 12Mp, a 5x optical zoom lens in the form of an f=6.4-32.0mm, F3.3-5.1 Fujion lens, equivalent to a 28-140mm lens on a 35mm camera. The standard ISO range of 100-3200 can be increased up to ISO 12800, with the shutter speed range of ¼-1/1500sec, extendable to 8-1/1500 sec in some modes.
This camera supports xD, SD, and SDHC cards, has 48MB of internal memory and comes with a lithium-ion battery. In a throwback to the days of film, you can select several film simulation types, including Fuji's standard Provia and vivid Velvia. The battery has a CIPA rating of 230 shots per battery charge, which is disappointing; we'd expect the figure to be closer to 300 shots for a camera of this type.
There are a few more disappointments, such as the lack of a RAW shooting option, no HD movies – you get VGA and QVGA video in AVI Motion JPEG format – and manual aperture setting is limited, more on this later.
That said, the Finepix F200EXR still has plenty to offer, including the rather nifty new EXR sensor. This has several operating modes. Set it to EXR Resolution Priority and the camera will take full resolution 12Mp images. However, when set to EXR High ISO and Low Noise mode, the camera combines signals from adjacent pixels to create what is effectively, an extra large photodiode that can absorb more light. On paper, at least, this means less noise in low light conditions, although the trade-off is a loss of resolution.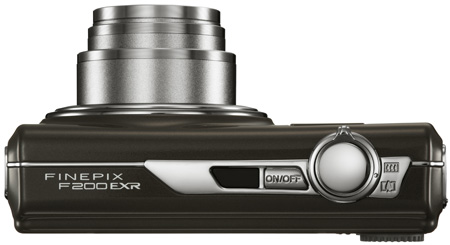 Too big for the shirt pocket, but easy on the trousers
The third EXR mode, Dynamic Range Priority, takes two 6MP exposures and combines them to enhance the detail normally lost in shadows and highlights. Four DR strengths are available – 100, 200, 400 and 800 per cent, and if you're not sure which EXR mode to use, switch to EXR Auto and the camera will do all the thinking for you; selecting the mode best suited for the shooting conditions. If you want to know more about how the EXR sensor works, check out Fujifilm's Finepix page here.