Space shuttle Atlantis mission specialists Mike Foreman and Robert Satcher will later today step outside the International Space Station for the first of three STS-129 mission spacewalks.
Atlantis docked with the ISS yesterday (see pic*) bearing 27,000lb (12,300kg) of cargo that is "essential for the continued operations of the orbiting laboratory". This payload includes "two pump modules, two control moment gyroscopes, two nitrogen tank assemblies, an ammonia tank assembly, a high-pressure gas tank... power control unit, a plasma container unit, a cargo transportation container and a battery charge/discharge unit".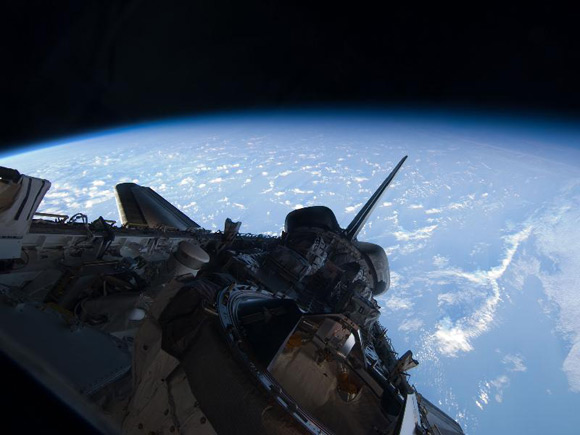 Foreman and Satcher are tasked with installing a spare S-band communications antenna structural assembly and lubricating parts of the Kibo robotic arm. Foreman is making his fourth spacewalk, while Satcher will be stepping though the hatch for the first time.
As they enjoy some light EVA, station commander Frank De Winne and flight engineer Jeff Williams will work in the ISS's Harmony node rerouting "data, power and cooling lines and air flow connections" which will eventually be hooked up to the Tranquility node when it arrives on Endeavour's STS-130 mission, slated to lift off on 4 February next year.
Tranquility is the "last major United States addition to the space station", as the space shuttles near retirement. The venerable vehicles' remaining missions are: Endeavour (STS-130, 4 February 2010); Discovery (STS-131, 18 March); Atlantis (STS-132, 14 May); Endeavour (STS-134, 29 July); and Discovery (STS-133, 16 September). ®
Bootnote
*NASA describes the photo as a "partial view of space shuttle Atlantis' payload bay, vertical stabilizer, orbital maneuvering system pods and docking mechanism".