Leccy Tech A Japanese e-car has set a new world record for the longest distance travelled on a single charge, travelling the 345 miles from Tokyo to Osaka without pulling over to re-charge.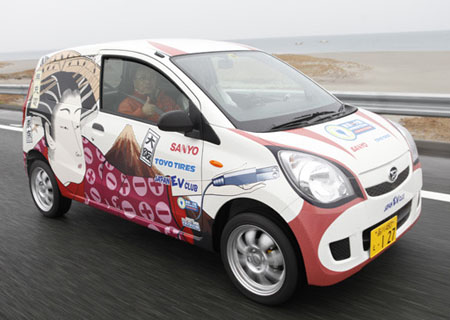 Tateuchi drove his modified Mira from Tokyo to Osaka
The distance trumps the 313 miles managed by a Tesla Roadster through a strip of Australia just last month.
Tadashi Tateuchi, of the Japanese Electric Car Club – a body dedicated to all things e-car, drove the Japanese distance in 13 hours and 26 minutes.
His trip included two comfort breaks, although Tateuchi was at pains to point out that his journey involved use of the car's windscreen wipers and headlights.
Tateuchi drove a one-off electric version of the two-seater Daihatsu Mira mini-car which - to ensure it went the distance – was stuffed to the gunnels with 8320 Sanyo lithium-ion batteries weighing a suspension flattening 360kg (796lbs).
Before setting off, the car sat plugged in for just over nine hours in order to fully charge the batteries.
Of course you can't actually buy a leccy Mira, so Tesla still holds the record for the longest trip in a battery powered production car. ®