This article is more than 1 year old
Google open sources flash-happy Chrome OS
Uber browser shuns hard drives
Updated It's a big week for Microsoft. Which means Google has made a point of spotlighting a product designed to undercut its Redmond arch rival.
Today, via webcast from its Mountain View headquarters, Google VP of product management Sundar Pichai and Engineering Director Matthew Papakipos unveiled an early version of Chrome OS, the much-discussed browser-based operating system the company first announced this past summer. This initial build has been open-sourced as the Chromium OS, with Pichai saying that outside developers will be able to work hand-in-hand with internal Google coders on the same code tree.
Along with the code, the company has released some user interface experiments and design documents sketching out intentions for future development.
Google also said the OS - "initially" intended for netbooks - would debut "in a year." This summer, the company had said it would arrive in the second half of 2010.
The OS is essentially Google's own Chrome browser running atop a Googlized Linux. Pichai said that only browser-based applications would run on the OS. Local applications are not permitted. Likewise, he said, all user data will be stored "in the cloud," meaning on web services provided by Google and others.
But Pichai said that users would be able to cache data - at least Google-stored data - locally.
The OS is designed to boot uber-quickly, and the company demonstrated a 7 second boot-time on a netbook during its webcast. The OS boots entirely from flash-based devices - not traditional spinning hard drive media.
Though Pichai said he expected it to change over the next year of development, he also demoed the operating system's current user interface. The, yes, browser-like interface uses tabs to juggle web-based applications. This isn't that different from what you'd expect from today's browser, but there are also new, in-browser window panes that pop up to display certain applications and media.
Each application will be run its own security sandbox, and Google says that every time the OS boots it verifies the integrity of its own code.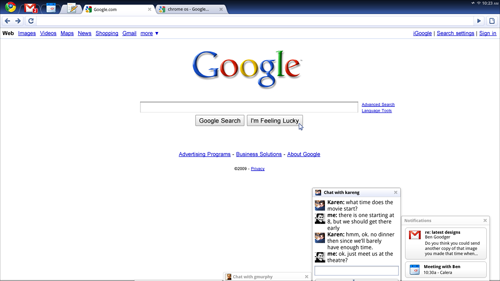 Chrome OS (click to enlarge)
Chrome OS is designed to run on both x86 and ARM chips, and Google is working with multiple partners on commercial devices, including Acer, Asus, Freescale, Hewlett-Packard, Lenovo, Qualcomm, Texas Instruments, and Toshiba. Google has very specific ideas on how these machines will be designed. As said, the OS does not support hard drives, and Pichai said there would be other hardware restrictions as well. For instance, he said Google would only support certain wireless cards.
Pichai declined to say how much Chrome OS devices would cost. But he said prices would be not unlike "what computer buyers expect today."
You can visit the code base here, the user interface experiments here, and the design documentation here.
Pichai confirmed that Google is "focused" on getting the OS onto netbooks, but other devices are a possibility. He also said that he expected that initial devices will be "second machines" for most buyers, meaning Chrome OS netbooks are not intended to replace current full-equipped PCs. ®
Update: This story was updated after its original posting with additional comments from Google's webcast. And it was later updated to clarify that the OS will run on both x86 and ARM chips.