This article is more than 1 year old
When algorithms attack, does Google hear you scream?
Inside Google's search penalties gulag
Analysis One day in June 2006, search startup Foundem vanished from Google. Foundem is the developer of a "universal vertical search" technology, and currently offers comparison shopping across a range of consumer and travel categories by drilling down into vendor sites and returning details of actual flights and products. But on 26 June 2006, Google flipped a switch and all of the obvious comparison shopping keywords no longer applied for the company.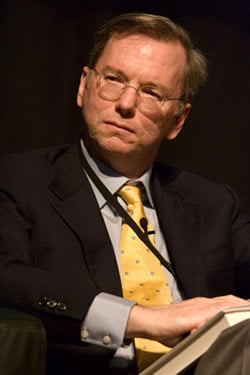 Schmidt: Nothing evil to see here...
Foundem had been effectively 'disappeared' from Google search results. A few weeks later in August, it was hit with an AdWords penalty, sending the quality score which determined Foundem's minimum AdWords bid through the floor. From paying around 5p per click for a Google sponsored link, Foundem claims it went to £5. The "quality score" is an automated assessment of the AdWords advertiser's landing page, and Foundem's had been lowered from a rating of "excellent" or "very good" to "poor" or "very poor".
The company began a series of reconsideration appeals, but it took a year of trying before senior Google AdWord Evangelist Fred Vallaeys confirmed in a conference call that Foundem had been hit by new algorithms designed to penalise certain types of vertical search sites, including price comparison and travel search. Google documentation specifically refers to penalties for these classes of site, and from the time they hit Foundem until quite recently, the documentation did not appear to require price comparison sites and travel aggregators to have done anything specifically 'wrong' to incur penalties.
Although it seems clear that specific changes made in June 2006 caused substantial damage to Foundem and other sites, a Google spokesman contacted by The Register declined to discuss specific cases and specific algorithm changes, saying only that "we make hundreds of changes annually to the search algorithm".
On vertical search penalties, the spokesman referred us to a statement provided to the Guardian earlier this year, which said: "We do not penalise specific types of site. Vertical search sites are important to us and our users - indeed vertical search sites which offer added value often come top of our search rankings. We make all of our search quality assessments based solely on relevance to our users."
When The Register referred the spokesman to Google guidelines which do indicate that Google penalises vertical search sites, he told us: "It's not vertical search sites full stop, but vertical search sites 'whose primary purpose is to send users to other shopping/travel comparison sites, rather than to provide useful content or additional search functionality'."
The hand of god?
There is a widespread view that Google's rankings are untouched by human hand, crafted impartially by machine, and machine alone. But there's much more to it than that - Google's verdicts on landing page quality are Google's opinion, and the company even says as much, sometimes. The algorithms play a part in the verdict, certainly, but algorithms are produced by humans working to policies, so you could view them as a prism through which Google's opinions are projected.
Google's systems are intended to catch scammers, get rich quick sites, scrapers and so on, but that presents a problem for legitimate businesses caught by them - is your business idea so dumb that you are indistinguishable from a scammer? Is the value you thought you were adding worthless in the eyes of the world? It's all very simple for the real scammer, who can just fold his tent and start a near-identical scam somewhere else on the intertubes, but it's a lot harder for the people who're collateral damage. There's nothing that SEO (Search Engine Optimisation) can do to overcome Google's penalty, and it's hard to get any kind of answers out of the company.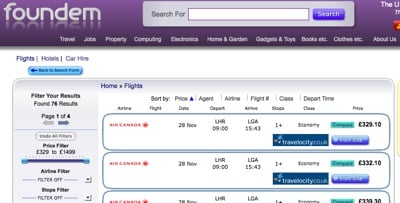 Foundem is acutely aware of the taint that attaches to you if you're blackballed by the world's least evil company, and brandishes awards that show that Google's opinions aren't shared by other people who might be thought to know what they're talking about. The October issue of Which? Holiday, for example, ranked Foundem third best flight comparison site in the UK, above Kayak and Kelkoo, while The Gadget Show rated it the best of the UK's 12 leading price comparison sites in December 2008.
The company has patents on its price comparison search technology, and provides services for publishing companies including Bauer Media, IPC Media and Future Publishing. So quality is very much a matter of opinion - but Google's opinion, right or wrong, is massively valuable.
Foundem's AdWords penalties were eventually removed via whitelisting in September 2007, shortly after the conference call with Vallaeys, but not before the AdWords Quality Team had twice insisted that the penalty was correct. Immediately after it was imposed in August 2006, the Team wrote: "Since the primary purpose of the site is to drive traffic to other websites, the Quality Team has decided that the initial evaluation was not in error."
And embarrassingly, on 14 August 2007, just six weeks before Google tacitly conceded by whitelisting Foundem that the evaluation had been in error: "I've confirmed that the original quality review of your site was correct, and that your current landing page quality is very poor."