This article is more than 1 year old
When algorithms attack, does Google hear you scream?
Inside Google's search penalties gulag
He who owns the Googlejuice makes the rules
We asked Google: "For AdWords, is there a formal, documented reconsideration appeals process, and how are they dealt with? How long do they ordinarily take? Is any information given to the appealing party as to why their site has been penalised, and what steps they might take in order to change the assessment? Is there any such process for natural search?" Google declined to respond.

Shopping with Google
The lack of transparency becomes more of an issue when Google's own services are considered. Google operates its own price comparison service, and since 2007 has been giving the results for this prominent positions in product-related search results. Within the past few weeks Google has also been testing new advertising formats, including putting prices and product pictures alongside product listings in its Sponsored Links sidebar. This, you might think, falls foul of the company's own guidelines and must surely impact on the, er, quality of Google's landing page.
And recently, Google announced "AdWords Comparison Ads" - Google's very own comparison shopping system, piloted initially in conjunction with a number of companies in the US mortgage and loans market.
Asked about the positioning of its own products on search results pages and in AdWords, Google referred us to this blog entry, which states that "our ads are created and managed under the exact same guidelines, principles, practices and algorithms as the ads of any other advertiser. Likewise, we use the very same tools and account interface." Google, of course, does have rather a lot of money that it can pay itself for AdWords advertising...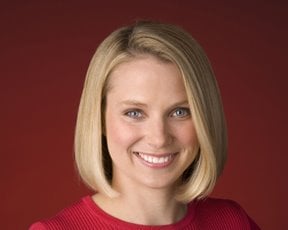 Style guru Marissa Meyer
Google's spokesman explained the "Shopping results" positioning (illustrated above) as being connected to Google Universal Search. This, the brainchild of Search Products VP Marissa Meyer is intended to "integrate the vast amounts of information available into one simple set of search results". According to the spokesman: "Universal Search features are triggered when the aggregate behaviour of millions of previous visitors suggests that non-web-page content will be useful to a given query. For [TFT monitor] searches, that may be shopping results, but for other queries it could be different: search for [Martin Luther King Jr] and you'll get images, videos and books."
So if we have that right, the link to Google Products is not stuck into the middle of a search results page at the behest of a human, but is there because of the aggregate behaviour of millions of users, with Google just trying to get them to the solution they desire faster. And frequently, people searching for 'TFT monitor' will be looking to comparison shop TFT monitors - so yes, this is probably what most of them want.
By happy coincidence, clicking on the "Shopping results" link gets you here, where the aggregate behaviour of millions of users is forcing Google to compete with Amazon.
The Google Products service, incidentally, does a whole lot more than electronics. Ever seen any of these babies on Amazon? It doesn't do airline tickets yet, but given that looking for airline tickets is common behaviour among millions of Google users, it's surely only a matter of time.
Musical explanations
Google Universal Search is effectively a collection of results from the company's own vertical search products. Fortunately, Google's rules seem to have changed as Google's own comparison shopping efforts have stepped up a gear. The explicit reference to shopping comparison and travel aggregator sites as sinks of badness was modded slightly a few weeks ago. Until early October it said this:

But now the badness is confined to: "Poor comparison shopping or travel sites whose primary purpose is to send users to other shopping/travel comparison sites, rather than to provide useful content or additional search functionality."
Well, we hope it still says that, anyway. Check out the AdWords blog, however, and you can still find a 2007 posting quoting the old version.
Note that the previous version did not accept the possibility that there could exist 'good' shopping comparison and travel aggregator sites, thus presenting a problem for Kelkoo or even Amazon (which is not exactly a shopping comparison site, but which is certainly used for comparison shopping), and Google's own nascent services, including mortgage comparison and the "other search verticals, possibly including a travel booking service", which Google was reported to be planning as follow-ups to last month's Google OneBox launch.
Google explains the favourable positioning of its own Google Products service