iPhone owners lamenting the lack of NFC capability can now plug in the iCarte from Wireless Dynamics, providing short-range wireless at the cost of a little extra length.
Those who can't wait for the next iPhone, or believe Apple lacks the nerve to fit Near Field Communications internally, now have the option of plugging NFC capability into the bottom of their handsets, making the phone a little longer but extending its reach by several centimetres.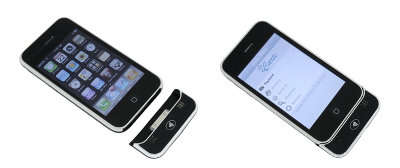 Adding NFC to an iPhone, before Apple does
The iCarte is fully NFC compliant, which means it can read and write RFID tags as well as pretending to be one. It operates in the 13.56MHz band used by MiFARE and thus would be compatible with Oyster*, Octopus** and their ilk, if someone were to develop a suitable application.
Wireless Dynamics is expecting more vertical usage, such as warehouse asset tracking where RFID tags are already in use, or perhaps the more-trendy retail store where the reader could interact with the wireless payment systems already being embedded into credit cards.
Anyone who believes the next iPhone will feature NFC might also take an interest, though we still reckon Apple will leave that to third parties such as Wireless Dynamics for a while yet. ®
* Wireless payment system used for London public transport
** Wireless payment system used by Hong Kong public transport - the aquatic theme remains an enduring mystery