Arriva cellphone tickets let mobiles keep you mobile
Bus spotters irate*
---
Passengers travelling on an Arriva bus can now pay with a wave of their mobile phone, without recourse to NFC, RFID, or any equally high-tech solutions.
The system deployed by Arriva uses a Java client on the phone to sell tickets to the passengers using a credit card or at a PayPoint outlet, the ticket can then be activated on the phone and the passenger shows the phone's screen to the driver, who lets them on the bus.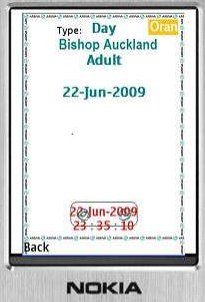 Collectors of bus tickets won't be amused
Customers don't pay for the data connection for downloading or using the application, except on T-Mobile where the mBlox-provided service doesn't yet work and punters have to pay for their data too, but everyone else just pays for the ticket which can be a daily or weekly pass, or a single-trip ticket.
That ticket can then be used on any Arriva service, except where they're run by Transport for London (where Oyster would be the technology of choice) or park and ride services.
Systems like this usually have some sort of high-tech component, utilising on-screen bar codes or some sort of radio connection, but Arriva's solution just presents the ticket on the screen and expects the driver to be able to spot if it's a fake.
Arriva tells us that the combination of a clock ticking away, along with animated Arriva symbols, would make the ticket hard to forge, and that drivers would be advised of that day's colour (orange in the example, top right) to make things harder for the would-be forger.
It all seems terribly low-tech to us, and we can't help thinking that an NFC-equipped iPhone sporting fingerprint recognition would be a better solution, perhaps combined with some sort of satellite navigation system and an integral teasmade to keep us warm while waiting for the bus. ®
* Those who spot buses probably won't mind, but the subset who collect tickets (yes, they exist) are going to have a hard time.