A 6 man "startup" was one of the highlights of Qualcomm's first European R&D showcase today. Skifta is a private P2P network for media sharing - much like Orb. There's a small daemon that runs on Linux, Mac or PC and this sprays music, photos and other movies around different devices such as games consoles, TVs, your mobile or work PC.
Like Orb, but unlike Opera's built-in browser webserver Unite, Skifta is locked down to prohibit free-for-all media sharing - but that's something third party services with music licenses could then build on top of it. Third parties can use their own authentication. It's a reminder that the technology is all in place for great p2p music services - but the licenses aren't forthcoming.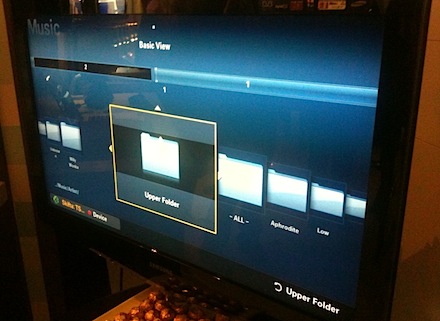 Skifta discovers a TV, via Ethernet
The Skifta daemon uses DLNA (Digital Living Network Alliance) device discovery services to scavenge for media storage or screens. DLNA is a standard gradually being built into TVs and other consumer electronics gear. There's also a website that runs off Amazon's web services.
Since the software is built with the Java-based OSGI component architecture, which allows components to be plugged in dynamically, devices can be plugged in too. Qualcomm staff showed a portable USB hard drive plugged in and which was instantly browsable. Here's Skifta running on a home network - the screen is an Ethernet-capable TV.
Developers can develop weird and wonderful plugins (using Eclipse) - one cooked up by the team for the demo scraped Twitter XML feeds and 'broadcast' them as a JPG to a TV or a picture frame. Not that many people would want to browse Twitter tweets such as those from the compelling Stephen Fry on a picture frame - but it shows what you can do as a developer,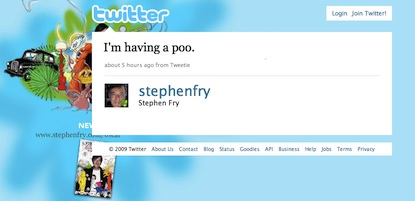 The always-interesting Stephen Fry
Qualcomm is treating Skifta like a startup - revenue possibilities include working with affiliates (such as Netflix or Amazon). But Qualcomm says that regardless, it's a useful experiment in seeing what the market wants.
Skifta is a nice idea nicely done. We're going to kick the tyres at home now. You can too, by signing up over here. ®
Bootnote
Qualcomm showed a lot of impressive stuff today, including its contactless wireless charging system called eZone (you merely have to hover your phone over a charging pad). But all this whizzy convergence runs into some practical problems. Here on the 29th floor of Millbank Tower at Westminster, O2 users couldn't get a reliable 3G signal...