Review The W5810 range represents Sony's first move into the Freesat market, allowing you to sample the delights of true HD broadcasting without coughing up any extra cash for a Blu-ray player or Sky HD subscription.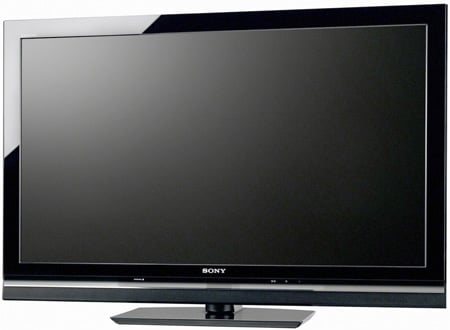 Sony's Bravia KDL-46W5810 – one of the company's first Freesat tellies
As the name implies, the KDL-46W5810 is the 46in representative of the W5810 range, although there are other models available that range from 32 to 52 inches in size. Sony's press office prefers not to discuss anything as mundane as pricing, but a quick detour into our local Sony Centre yielded a price of £1300, and online prices seem to be much the same. Sony is never the cheapest of brands, but that isn't a bad price for a 46in model that provides an impressive image, good connectivity and the Freesat option.
Still, it's not the most elegant TV we've ever looked at, as the screen is bordered by a chunky 2in wedge of black plastic, supplemented by an additional 2in strip of speaker grille running along the bottom edge of the screen. This gives the unit a rather monolithic appearance, as it sits there waiting for you to turn it on.
A quick look around the back of the unit reveals both the Freesat tuner and a second 'hybrid' tuner that can receive both Freeview digital and ye olde analogue terrestrial channels. There are two HDMI connectors on the back, along with two Scarts, component video and stereo audio input, optical digital output, and a VGA connector for a PC. Incidentally, our Mac Mini worked fine when hooked up to one of the HDMI ports.
Over on the left-hand edge of the screen you'll find two additional HDMI ports, composite video and audio input, one USB port, and a CI slot for pay-TV services. There's also an Ethernet port and DLNA support for streaming content from devices such as a games console or media server. Sony's Applicast feature also allows the KDL-46W5810 to connect directly to the Internet in order to run exciting on-screen 'widgets' such as a world clock, RSS news feeds, or even an on-screen calculator.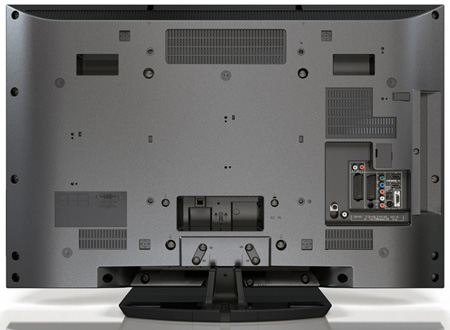 Good connectivity at the rear and the sides
The initial set-up is very straightforward. When you turn it on for the first time it asks if you want to automatically scan for Freesat channels, and also gives you the option of performing separate scans for Freeview or analogue channels as well. That will be handy for people who may not have their satellite kit sorted out yet.