IoSafe Solo disaster-proof drive
Fireproof and waterproof - we know, we tried it
---
Review The IoSafe Solo USB drive is a robust storage device that promises to protect precious data in the event of a fire or flood. It uses patented technology to surround the 3.5in Sata hard disk with both waterproof and fireproof barriers, as well as an innovative cooling mechanism.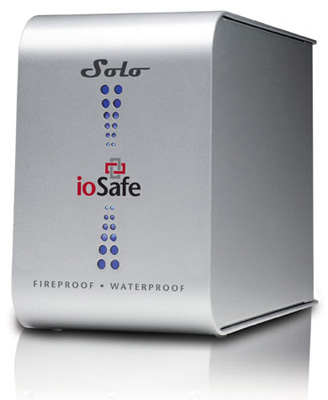 IoSafe's Solo: disc burning and soak tests take on a new meaning
At 15lbs, the IoSafe drive feels reassuringly heavy – portable, it most definitely is not. The case measures 11 x 7 x 5.1 inches and of a sturdy "alloy steel" construction. Being terminally curious, opening it up we found it contained two large slabs of a solid fire-resistant material resembling plaster of Paris. Cooling channels are moulded into the slabs, leading to a large hole in the centre, in which sits IoSafe's choice of drive, a 500GB Hitachi Deskstar, enclosed in a plastic jacket.
The drive cables are sealed at the neck of the bag with a silicon-based cement. On the back of the unit is the power switch and sockets for the external PSU and a solitary USB 2.0 interface – pity there's no FireWire or eSata option though.
The manufacturer boasts a three year warranty against "mechanical or operable part malfunction or breakdown" and included in the purchase price is a one year, one time, no-questions-asked Data Recovery Service, which IoSafe underwrite up to £500; this can be upgraded to 3 years for £50 or 5 years for £100. However, no backup software is provided, so it's up to you whether to use your default OS applications or something more sophisticated.
The IoSafe Solo is extremely quiet in operation and produces little in the way of heat. It comes pre-formatted with NTFS for Windows, but was reformatted for use with a Mac for our tests. The uncomplicated 23-page manual covers reformatting and suggests ways to physically secure the unit, by bolting it to the floor or padlocking to a cable. It also includes details on exactly who to call (in the US) following a disaster.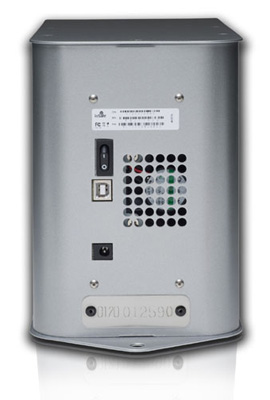 Minimal interfacing at the rear
For our initial tests, around 4GB of home directory data consisting mainly of photos was copied to the drive, taking a seemingly inexplicable 1 hour and 20 minutes to complete. However, this said more about the state of the laptop than the speed of the IoSafe, as will be revealed later. Under normal conditions, the manual suggests a typical sustained transfer rate of 25MB/s.
Similar topics
Narrower topics