IoSafe Solo disaster-proof drive
Fireproof and waterproof - we know, we tried it
---
Given the IoSafe Solo's credentials are, apparently, bordering on indestructible, some real world testing was in order. There are various reports of this unit being left in a burning car or a shallow stream for relatively short periods, but something more extreme was in order. Why not drop the thing down a well and see if it survives?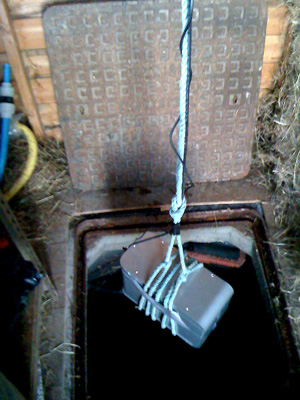 Don't try this at home
The first question was: would the IoSafe actually work whilst underwater? Figuring the internal cooling fan wouldn't work too well whilst submerged, it was disconnected. Once re-assembled, the unit was lashed up on a 5m length of rope along USB and power leads with connectors enclosed by plastic bags and gaffer tape. Another file copy was started, this time from the IoSafe to the laptop and both drive and cables were lowered into the well.
At this time of year, the well is around 3m deep and, as soon as the drive was submerged, the spinning ball appeared and the file copy hung. No big deal: IoSafe doesn't claim the drive actually works underwater, but you gotta try it, right? The unit touched down at the bottom and bubbles continued to appear for a good five minutes. The laptop was disconnected, manhole cover replaced. Time for a break in the Highlands.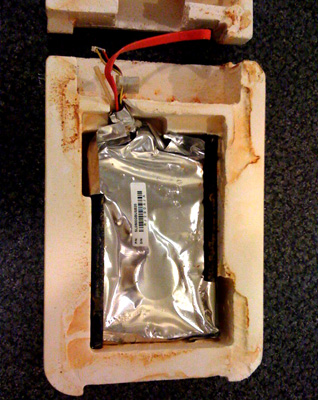 Data packets of a different sort
The plan was to leave the IoSafe down the well for three days whilst on holiday, as this period would be in line with the specifications: "Humidity: Non-operating, 100 per cent, up to 72 hours @ 10' depth". A trusted friend had been asked to pull the drive out and leave it to drain and dry out after that time had elapsed. Unfortunately, he forgot.
Returning from holiday, it transpired that the IoSafe had been under 3m of water for nine days. When finally recovered and left on the boiler for a further week, there was significant corrosion on parts of the metal case and fittings.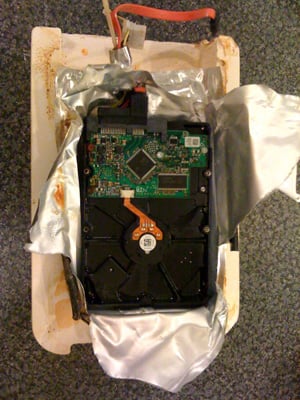 Rust never sleeps
The internal water-resistant jacket was cut open and a small amount of moisture was visible inside, along with some corrosion of the drive screws. It wasn't looking good. As a last ditch measure, before resorting to IoSafe's Data Recovery Service, the Sata drive itself was removed and put in the airing cupboard for a couple of days to dry fully.
Similar topics
Narrower topics