IoSafe Solo disaster-proof drive
Fireproof and waterproof - we know, we tried it
---
Curiously enough, whilst away sampling single-malt in the Highlands, the test laptop apparently died and refused to boot up. It hadn't previously been backed-up either – surprise, surprise. The hard drive had failed after a period of poor performance, thus explaining the slow data copying issues mentioned earlier, and the only backup of some precious photos was actually on the IoSafe drive that was being desiccated.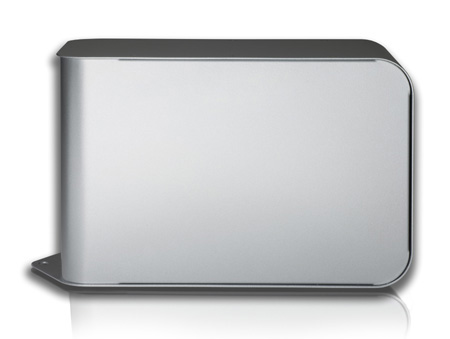 Big and heavy, but that's disaster protection for you
Hooking it up to another Mac with a Freecom Sata/USB Hard Drive Dock, the 3.5in Hitachi drive spun up and appeared on the Desktop. A sample of files totalling 411MB were copied off in 20 seconds – equivalent to 20.5MB/s, and not too far off the IoSafe figures. The data was recovered, as the drive had evidently not been consigned to a watery grave.
Verdict
At around £230, the IoSafe Solo represents very good value, with 1TB and 1.5TB options also available at £299 and £345, respectively. However, the absence of any backup software does seem at odds with the IoSafe's raison d'être, namely, file preservation. Those misgivings aside, if you're concerned your storage could be compromised by natural disasters, the IoSafe Solo evidently succeeds in protecting your data from two of the most damaging of the Earth's elements; fire and flood. ®
More External HDD Reviews...

Western Digital
My Passport Essential

LaCie
Starck

Samsung
Story Station

Freecom
ToughDrive Sport

IoSafe Solo disaster-proof drive
If you're plagued by disasters or just an everyday paranoid, then this storage device will improve your data's survival chances in fire and flood.
Price:
£230 (500GB), £299 (1TB), £345 (1.5TB) RRP
Similar topics
Narrower topics