This article is more than 1 year old
Google Chrome OS - do we want another monoculture?
Microsoft ball breakers. Strings attached
Yes, Google has open-sourced Chrome OS, its much-discussed browser-based operating system. But as usual, the open sourcing only says so much about its openness.
After all, this isn't something you can load on any PC. And it's not much of an operating system. You can't load local applications - not even one.
As part of its crusade to move more and more of our lives onto the web - and onto its own web services in particular - Google has shunned the desktop entirely. And in doing so, it has shown a certain Apple-like quality: Like the Jobsian cult, Google is intent on tightly coupling hardware and software. The company - dare we say - is closing the market to certain hardware.
But the ultimate irony is that after years of criticizing Microsoft for bundling its OS with its browser, Google has nearly made them one and the same. Yes, you can run third-party applications - but only web applications, online services of the sort offered most notably by, well, Google. And you certainly can't use a third party browser.
According to Google VP of product management Sundar Pichai, Google is placing bold restrictions on Chrome OS hardware. "We are working on the Chrome OS image - the software - but it addition to that, we are actually going and working with partners to specify components at the hardware level. We really want software to understand the underlying hardware so we can make it much faster and more secure. It's an important part of what we're trying to do," he said in Thursday's webcast announcing the open sourcing of the code.
"As a consumer, you cannot download the Chrome OS on your current machines. You will have to go and buy a Chrome OS on the market." Most notably, the operating system does not run on hard drives. It only runs on solid state devices. And Pichai said it will only run with certain wireless cards.
Now we know why Dell's name is missing from the list of twelve Google hardware partners. Google is working with Acer, Asus, Freescale, Hewlett-Packard, Lenovo, Qualcomm, Texas Instruments, and Toshiba on commercial devices. It's designed to run on both x86- and ARM-based netbooks.
We care, we really, really care. Oh yes!
Yes, Google is working with third-party manufacturers - it's not building the thing on its own - but there's still a fair amount of the Apple in its approach to hardware. "While netbooks today are very popular, we do understand there some usability issues out there. We really care about the end user experience," Pichai said.
"We're going to be working with our key partners very hard to make sure you see lightly larger netbooks, essentially netbooks that can accommodate a full-sized keyboard and a much more comfortable touchpad. We care about the displays. We care about the resolutions people get on these displays. And those will all be part of the specified reference hardware."
Come to think of it, there's a fair amount of the Apple in its software approach as well. Like the inaugural iPhone, Chrome OS will not run third-party applications. At least, not applications of the traditional kind.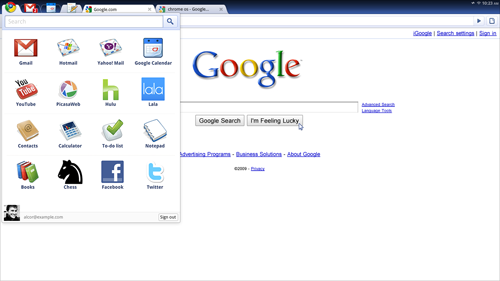 Chrome OS with app menu (click to enlarge)
When a reporter compared the move to iPhone 1.0, Pichai said: "Third-party apps will work, but only web applications...Even the apps we are writing will all be web applications. The browser works very well on bigger form factors. On phones, you see these applications as native applications because the web has challenges [on phones].
"Our mobile team is working very hard to push things there. But I think it is different on larger form factors."
And, yes, the ban extends to third-party browsers. Chrome OS is limited to Chrome. Naturally. The only way to run the OS with a third-party browser, Pichai said, is to grab the open source code and do your own surgery.
Not that you would expect anything else from a Chrome OS. Google is unveiling a new paradigm of sorts, and you can certainly argue that with the browser becoming the OS, the old bundling argument doesn't quite apply. But the Redmondian irony is there nonetheless. Microsoft's OS pushes people towards Microsoft apps. And Google's OS pushes people towards Google apps - beginning with the browser.