This article is more than 1 year old
Ricoh CX2
Clever capture modes
Review It doesn't seem five minutes since we looked at the CX1 – well, back in April actually – so it's quite surprise to find that Ricoh has already launched its successor, the CX2. Again, this is a super-zoom compact seemingly aimed at the enthusiast or the DSLR user who occasionally wants to pack something simpler and smaller. That said, there are a few surprising omissions for a top-end compact.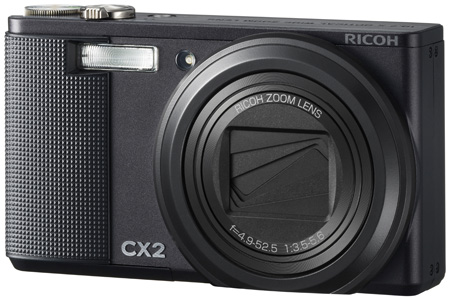 Ricoh's CX2 offers a more powerful zoom and some image processing tweaks
At first glance, there's little difference between the CX1 and CX2 – both have the same box-shaped metal body with relatively few buttons and a 3in LCD screen composed of 920,000 dots. The most obvious design change has been the addition of a textured hand grip on the right hand side of the CX2's body.
The cameras are also a similar size and weight, with the CX2 measuring 102 x 58 x 29mm and weighing around 200g with battery and card. Although the CX2 is highly portable, you will need deep pockets to carry it around comfortably. Both models use SD/SDHC cards and include 88MB of internal memory.
Even below the skin both cameras have some similar features including a 1/2.3in CMOS sensor with 9.20Mp and Smooth Imaging Engine IV image processor. So, is the CX2 simply a case of the same chocolates in a slightly different box? No, but that said, if you were one of those who rushed out and purchased the CX1 a few months ago, you shouldn't feel too bad about missing out on the CX2.
One of the biggest differences is that the CX2 has a 10.7x optical zoom compared with the CX1's 7.1x zoom. The CX2's offers an f/3-5-5 6 4.9-52.5mm optical zoom, equivalent to 28-300mm on a 35mm camera. Other features include an ISO range of 80-1600 and a shutter speed range of 8-1/1000sec.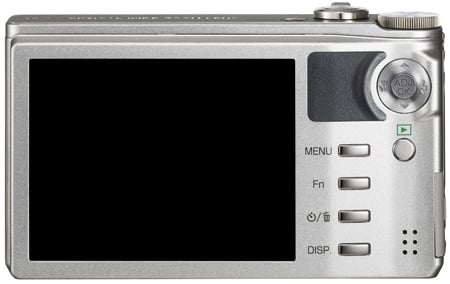 Crisp LCD panel, but no viewfinder
As with the CX1, you get Ricoh's Dynamic Range Double Shot system (DR), which takes two consecutive frames at different exposures and then combines the exposure information from both to produce a frame with an expanded dynamic range. A new addition is an automatic version of this feature.