This article is more than 1 year old
Ricoh CX2
Clever capture modes
There are also a few extra scene modes including Miniaturise, this blurs the edges, which makes objects appear much smaller than they are, and Discreet mode, designed for when shooting in museums and other places where you don't want your camera to be a distraction.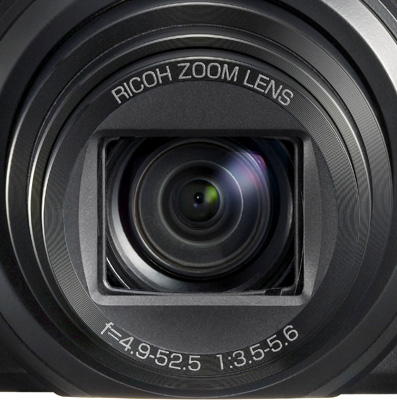 10x zoom lens has a range equivalent to 28-300mm on a 35mm camera
In this mode, the camera's flash, AF light and sounds are disabled. Still, there are a few things missing that you might rightly expect to find on a high-end compact costing £300. There is no RAW shooting option, no HD video (just VGA and QVGA), no viewfinder (which we think is essential on a super-zoom), no aperture or shutter priority, and no manual aperture or shutter speed.
Switch on to first shot, is a shade under three seconds, which means the CX2 isn't the fastest camera off the blocks, but it's not too bad. The large mode dial clicks firmly into position and you have a number of modes to choose from including: Auto, Easy (Auto on steroids, with even fewer user options), DR, Continuous, Scene and Movie. You can also create you own customised settings and store them in the two My Settings modes. The CX2's screen is large and clear, even in bright light, and the menu is easy to see.
There are two main menus, one for shooting (two pages) and the other for set-up (three pages) that are navigated from a joystick control. We found the joystick rather fiddly, and it was easy to push it too hard and exit the menu before making your adjustments. If you use the menu for adjusting the ISO speed, you are directed to almost the bottom of the second page, which is a pain.
Fortunately, the CX2 offers a fair degree of customisation. A Function button can be assigned one of eleven options, which are selected from a menu list (including AE lock and auto/manual focus select). You can also assign four functions to the Adjust button on the top of the joystick, such as ISO, exposure, white balance and image quality, which is much faster than navigating the menu.

Also available in pink, if you must
If you're not too confident about getting the best shot, there are plenty of choices that enable you to hedge your bets. For instance, focus, white balance and colour modes can all be bracketed, while multi-target AF results in the camera automatically selecting seven different focus positions in a scene and then taking seven consecutive shots, one for each position. We were pleased to see that Ricoh has retained the electronic spirit level display.