This article is more than 1 year old
Ricoh CX2
Clever capture modes
In terms of performance, the CX2 wasn't bad. Noise isn't an issue until you crank up the ISO speed to 400 and beyond. Colour and sharpness are impressive, although like the CX1, there is a tendency to overexpose. The CX2 boasts a White Balance MultiPattern Auto system, which divides a scene up into a 32 x 27 grid and calculates the optimum white balance setting for each zone. This is designed to enhance performance, but we saw little difference in the resulting image when using it or the plain vanilla auto white balance setting.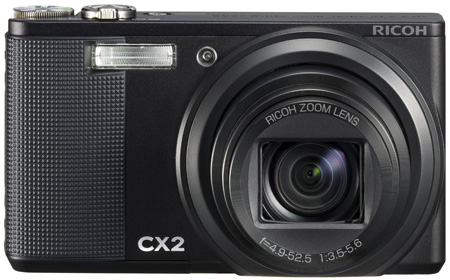 A lack of manual exposure control hampers flexibility
The DR system offered little when used in the Auto mode and its overall effect on the resulting image is subtle rather than stunning. You also need to use a tripod to get the best results. Shooting in low light produced less than spectacular results and the absence of any manual aperture or shutter control means your options are limited.
We did like the continuous shooting modes, which can shoot at 5 fps at 9MP image quality and a blistering 120fps in VGA quality. The CX2's CCD-shift Camera Shake Correction system, however, is less tolerant of camera shake than some other systems we've used, and it produced variable results, especially when shooting at the extreme end of the telephoto setting. Battery life is rated at 290 frames using the CIPA standard, although it was closer to 260 on our tests.
Verdict
It is somewhat puzzling as to why Ricoh has rushed out the CX2. Is it a sign of a lack of confidence in the CX1 or was the company keen to unveil its latest technology to the public? If it's the latter, then there's very little on show. In the time since the CX1 was launched, HD movie making has become available on some similarly-priced compacts, like Panasonic's Lumix DMC-TZ7, so the CX2's VGA offering is somewhat underwhelming.
The lack of a viewfinder, plus the absence of manual or even semi-manual control will limit its appeal to enthusiasts, and yet at £300, it's rather a lot to shell out if you simply want a point-and-shoot compact. The CX2 is well made and has some useful features, but we think there are stronger candidates on offer at this price point. ®
More Compact Camera Reviews...

Fujifilm
Finepix F200EXR

Nikon
Coolpix S630

Samsung
WB500

Panasonic Lumix
DMC-FS7

Ricoh CX2
Well-made and looks classy, but lacks features we'd expect to find in this price range.