Data Robotics has added two new products, enhancing both the basic Drobo and the more capable Drobo Pro. It now claims to provide the simplest and best value iSCSI SAN in the world.
Drobo has - had - two products; the basic Drobo and Drobo Pro. These provide a protected and consolidated pool of storage that can withstand drive failures and can be composed of 3.5-inch drives with differing capacities. When one fills up, you can replace it with a larger capacity drive and the Drobo gracefully assimilates the new drive, spreads data across it and makes use of the increased capacity.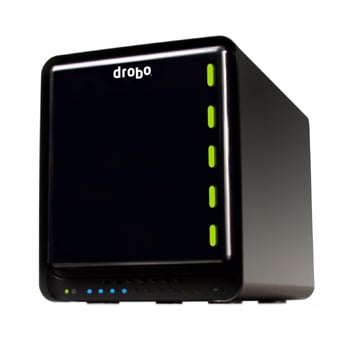 Each existing Drobo product has been enhanced to, respectively, the Drobo S and the Drobo Elite, making a 4-product range which now features eSATA and multi-host support.
The Drobo S has eSATA (external SATA) connectivity, together with USB 2.0 and FireWire 800, but not USB 3.0, since it is still early days for that standard. You may find it necessary to install an eSATA driver on the host PC or Mac, but it should be worthwhile as eSATA is described as "swift" compared to the 25MB/30MB/sec you might achieve from USB 2.0.
The eSATA protocol runs at 3Gbit/s, so we might think about something in the region of 200MB/sec being achievable. USB 3.0 might deliver 200-240MB/sec and, no doubt, Data Robotics will add USB 3.0 to Drobo S when it thinks the time is right. This might possibly be sometime in 2010, when PCs and Macs are shipping with it.
There are now five drive slots instead of the four in the entry-level basic Drobo, meaning it can hold 10TB using 2TB drives, and will go to 15TB when 3TB 3.5-inch SATA drives come out next year. As ever with Drobo, you will be able to stick the 3TB monsters alongside the 2TB drives and Drobo's software will take care of using it and adding its blocks to the consolidated pool. There is single or dual-drive redundancy, improving on the basic Drobo's single drive redundancy.
The Drobo S has a faster Marvell processor and its performance is said to be up to 50 per cent faster as a result.
With the Drobo Elite, Data Robotics says it provides a very easy-to-use and affordable iSCSI SAN (storage area network). Data Robotics' founder and CEO Geoff Barrall is claiming it costs up to 90 per cent less than other iSCSI SAN products, such as Dell/EqualLogic ones.
It supports up to 16 hosts and storage can be consolidated across them. There are 8 drive slots, meaning 16TB capacity with 2TB drives and the device is accessed through dual gigabit Ethernet ports. Drobo Elite supports up to 255 volumes, with Drobo Pro supporting 16 with its 8 drives.
Drobo's software constructs the volumes from the pooled storage across all the drives present. These are thin volumes and stay thin through the reclaimation of deleted data blocks, with the software tracking the use of each disk block in the system. Barrall says there is no need for LUN-level capacity management with the Drobo software, which he calls BeyondRAID.
Position Drobo S in your mind as single server storage for SMBs (small/medium business) and professionals, and Drobo Elite as multiple server storage for SMBs and departments.
Drobo S costs $799 as a drive-less enclosure and $1799 fully configured with five 2TB drives. Drobo Elite costs $3499 drive-less and $5899 fully configured with eight 2TB drives. With Data Robotics' sub-$15,000 market target these prices give lots of headroom for bigger multi-host Drobos, such as a 16-drive super Elite. Who knows what 2010 will bring? ®