NASA handed out $350,000 in prize money to astronautical haberdashers vying for glory in the space agency's Astronaut Glove Challenge this weekend.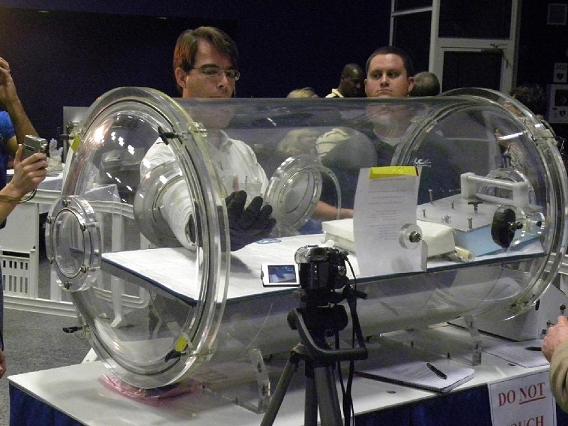 They said I was mad. Mad!
Peter Horner of Maine, a previous Glove Challenge victor, saw off stiff opposition from Ted Southern of Brooklyn. Horner's glove was deemed to have all the protective qualities offered by current NASA spacesuit gauntlets, and yet to be easier and more flexible to use. The contending handwear was tried out inside a small vaccuum tank at the Astronaut Hall of Fame in Florida.
Apparently Southern's glove was also perfectly good, well up to NASA standards, but not as pleasant to wear as Horner's.
"It is remarkable that two designers working on their own could create gloves that meet the requirements for spaceflight - a task that normally requires a large team of experts," said space glove expert engineer Kate Mitchell of NASA's Johnson space centre.
The two astrohaberdashery amateurs had clashed already, at the earlier Glove Challenge of 2007. On that occasion competing gloves weren't required to have thermal/micrometeoroid outers, just the inner pressure-tight layer. Horner walked away victorious on that occasion also; he has now trousered no less than $400k from NASA in glovely compo rewards.
The Glove Challenge is only one of NASA's "centennial challenges": other events encourage inventors of moon-dirt digger robots and hover-rockets. There was formerly an event for flying cars (or Personal Air Vehicles), however this has now turned into a competition for greened-up but otherwise ordinary light aircraft.
There's more from NASA on the Challenges here. ®
Similar topics