This article is more than 1 year old
Google herds coders into Chrome extensions gallery
Hang 'em high
Google is corralling developers into uploading their Chrome browser extensions to a new gallery that hasn't been opened up to testers yet.
That will change for a select bunch of coding guinea pigs in the next few days, said Mountain View.
In the meantime, those developers who want to slot their add-ons into Chrome will be required to sign up to Google's Ts&Cs before uploading their extensions into the gallery.
Under those terms, Google has the power to examine a developer's extension before it gets published.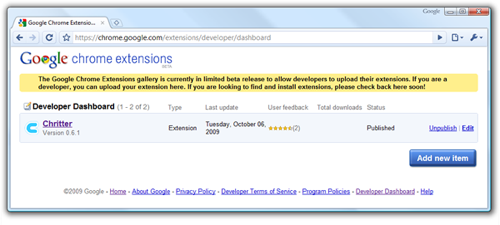 Limited beta release
"For most extensions, the review process is fully automated," wrote Google software engineer Lei Zheng on firm's Chromium blog yesterday.
"The only extensions we'll review manually are those that include an NPAPI component and all content scripts that affect 'file://' URLs. For security reasons, developers of these types of extensions will need to provide some additional information before they can post them in the gallery."
Just last week Mozilla confirmed plans to debut a "lockdown" feature in Firefox 3.6 to force third party application developers to toe the line by preventing them from adding their own code into the browser's components directory. ®