Hard drives cop flak from .50 cal incendiary round
Shooting up a server? Pah, that's nothing...
Our piece last week on keepgoing.biz, which deployed an arsenal of weaponry to shoot the shit out of an innocent server, prompted HardOCP.com's Kyle Bennett to drop us a line suggesting he was better endowed in the firepower department.
Coincidentally, HardOCP uses the same range as keepgoing.biz to satisfy its appetite for destruction, and earlier this year decided to find out just how many hard drives it takes to stop a .50 BMG armour piercing incendiary round fired from an Armalite AR-50: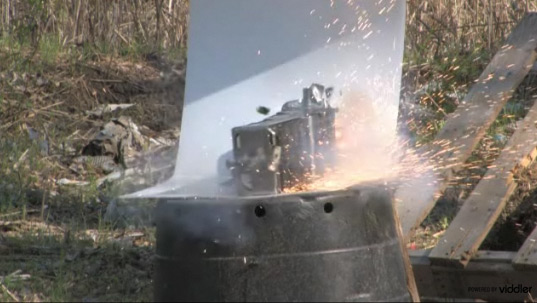 The answer is quite a lot, as you can see in the full video here.
Well, before any more of our US chums start sending us vids of how they did for a netbook with improvised hollow point .45 ammunition, the Vulture Central weapons research facility has decided to nip it in the bud with the ultimate test: just what thickness of 32MB SD cards is required to impede a Carl Gustaf recoilless rifle high explosive anti-tank projectile? ®