Transferring 2GB of files from one folder in the drive to a new folder took 47.1 seconds with the Ultrastar drive but only 39.0 seconds using the Caviar Black. The telling point would seem to be that Hitachi uses fives platters compared to the WD's four platters, which indicates that Hitachi is working with a lower areal density and as a result it has poorer performance.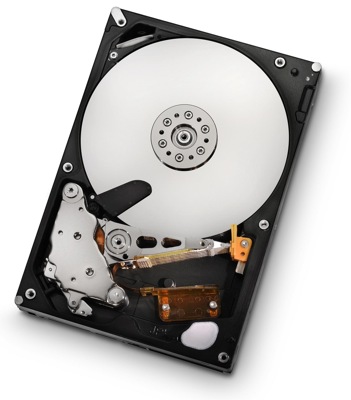 Five-year warranty
Take all those tests together and the Hitachi comes out as the loser in terms of performance but the margin of defeat varies depending on the type of task you are performing.
The question is how much emphasis you put on the performance of your hard drive. If you're looking for speed – and who isn't? – you really should have an SSD for your boot drive. This leaves the 2TB drive as a storage drive where performance is less important than it might otherwise be and the focus shifts to noise levels and price.
In all of those respects, the Ultrastar looks fairly limp next to the WD Caviar Black. It costs £30 more and is more noisy. The Hitachi has lower idle power draw than the WD, but you have to assume that an Ultrastar in a server environment won't be doing much in the way of idling if it's working for its living.
Going out on a limb, we have to think that the 2TB Deskstar drive will deliver performance that is very similar to the Ultrastar yet the price is much, much lower, undercutting the WD Caviar Black by a startling £95. There's no way we can recommend a drive that we haven't seen, but we reckon the 2TB Deskstar would be worth a long, hard look.
Verdict
This Ultrastar drive is horribly expensive and delivers little in return. However, its low-cost Deskstar sibling looks incredibly tempting. ®
More Drive Reviews...

WD Caviar
Black 2TB

WD Caviar
Green 2TB

Kingston
SSD Now V

Intel X25-M
34nm

Hitachi Ultrastar A7K2000 2TB HDD
Hitachi has developed a 2TB Deskstar drive that is incredibly cheap. The 2TB Ultrastar may be a harder worker, but it's twice the price.