UK jails schizophrenic for refusal to decrypt files
Terror squad arrest over model rocket
---
He was also charged for his February missed bail appearance and for two attempts to get a new passport falsely claiming his was lost. He says CTC told him he would not get the one they had seized back, so he applied for a new one.
After three months on remand JFL faced trial on 2 June. He pleaded guilty to all the charges, wrongly believing he would be released that day with an electronic tag thanks to time served. Instead, taking into account the passport offences and missed bail, he received a total of 13 months.
Before finishing what would have been a six-and-a-half-month prison term during September, JFL was sectioned under the Mental Health Act. He now does not know when he will be released from hospital.
In his judgment, Judge Hetherington accepted JFL was no threat to national security and noted his outsider lifestyle. "You... wished to involve yourself in a world which was largely based upon the access to the internet and using computers and not really interacting with other people in the ordinary outside world to any great extent," he said.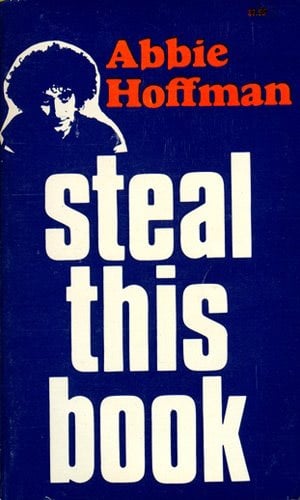 Steal This Book - 'How to make pipe bombs'
"It is said on your behalf that you lead an existence rather akin to that of a monk, and that there is nothing sinister in any of this but it is essentially private matters and you do not see why you should have to disclose anything to the authorities."
The judgment also took note of JFL's unusual hobbies and interests. He describes himself as an "amateur scientist" and his Fedex packages contained lab equipment, putty, devil bangers (which explode with a snap when thrown to the ground and are sold in joke shops), a metal detector and body armour. He also had a book on gun manufacture, a book on methamphetamine production and an encryption textbook. All are available from Amazon.
JFL also had a copy of Steal This Book, Abbie Hoffman's 1970s counter-culture bestseller. Judge Hetherington described it as "a book that detailed how to make a pipe bomb".
Images of the evidence haul were sent to the Defence Science and Technology Laboratory (DSTL), an MoD agency that carries out assessments in explosives cases. A scientist wrote: "Some of the contents of the luggage could [DSTL's emphasis] be used for the manufacture of explosives or explosive devices but none of the items (as far as I could tell from the images) were obviously for this purpose and, with the exception of the throwdowns [devil bangers] and model rocket they all appeared to have other non-explosive uses."
Judge Hetherington backed CTC's initial suspicions. Added to the encrypted files, he said, the luggage made it "understandable in those circumstances that the various authorities were highly concerned initially as to whether there was some link to terrorism and a threat to national security".
During sentencing, the judge seemingly confirmed that NTAC staff had been unsuccessful in their attempts to crack the encrypted files - or had not bothered trying. "To this day no one really has any idea as to what is contained in that equipment," he said. One file encrypted using software from the German firm Steganos was cracked, but investigators found only another PGP container.