This article is more than 1 year old
Freesat to get BBC iPlayer on 7 December
Freeview HD spoiler?
Freesat, the free-to-air satellite TV service, has said BBC iPlayer support will be introduced on 7 December.
That's just five days after the Freeview HD begins transmitting, and the Freesat iPlayer is arguably no more of a full launch that the terrestrial hi-def service is.
What's coming on 7 December is the beta release, which will initially be made available only to "selected journalists and partners" who will be able to "access the service using a code". Is El Reg to be included? We'll let you know.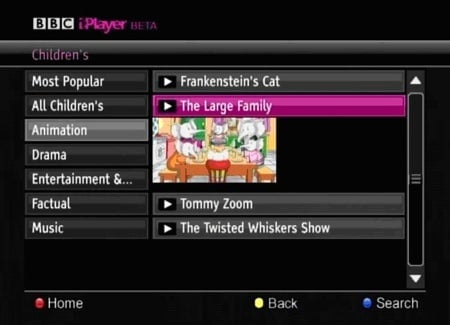 That said, Freesat expressed its keenness to have "as many Freesat viewers as possible will be able to use the service by Christmas", so it looks likely the service will be quickly made more widely available than hacks who write nice things about Freesat.
Approaching Christmas, around 450 hours of programmes will be made available on iPlayer, Freesat said.
The service will only be accessible by Freesat viewers who own a set-top box or IDTV with a built-in active Ethernet port. They'll also need a broadband connection of at least 1Mb/s. iPlayer will initially appear in the BBC's 'red button' menu.
The BBC online catch-up offering will be joined on Freesat by its ITV equivalent sometime during H1 2010, it was revealed. ®