This article is more than 1 year old
OCZ promising USB 3 desktop SSD
Partnering with Symwave
The dreary wait for slow desktop and notebook booting could be halted in its tracks for those with USB 3 interfaces and and cash, as OCZ is developing a fast and large capacity USB 3 SSD.
What's happening is that OCZ is getting together with Symwave, a supplier of USB 3.0 silicon, to add a USB 3 interface to a desktop solid state drive (SSD) it's developing. There's a picture of the prototype below courtesy of Daily Tech.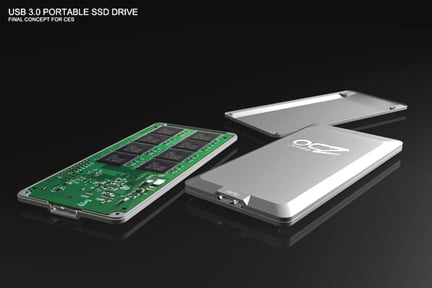 The prototype will be shown at the International CES event in January which will be held in Las Vegas. The aim is to get around the limitations of the 3Gbit/s SATA II interconnect by using 5Gbit/s USB 3.0. OCZ could have used eSATA, but that is a version of the SATA II protocol and hence operates at 3GBit/s too.
Obviously host desktop and notebooks will need a USB 3.0 port and such devices may well come with internal SSD options. If these use the SATA II protocol then OCZ might well say its USB 3.0 device could blow them away in terms of performance.
What can we deduce about this SuperSpeed external USB? First of all the prototype's packaging shows it is not a USB thumb drive form factor. Super Talent announced a USB 3 thumb drive at the beginning of the month, with a maximum capacity of 128GB. The OCZ form factor looks like that used by a 2.5-inch external-attach hard drive and the additional space inside suggests it wants to offer much higher capacity than 128GB.
We note that OCZ released a 1TB Colossus SSD recently. This used a 3.5-inch hard drive form factor and the SATA II interface. It offered read and write performance of up to 260MB/sec and 12,000 to 14,000 or so IOPS (4KB blocks) depending on the capacity, which ranges from 120GB through 250GB, 500GB, and 1TB (1024GB) configurations.
We could be looking at a terabyte of flash - possibly multi-level cell flash for affordability - delivering say 320MB/sec read and write performance across its USB 3 link and giving an operating system boot time of seconds. There is bound to be a cash price to pay, a terabyte of flash does not come cheap.
A 120GB Colossus costs around $440, the 250GB model will set you back about $830, you'll need over $1,500 for the 500 gig version and a whopping $3,400 or so for the full house terabyte model.
Recently OCZ announced a deal to use SandForce SSD controllers in enterprise and consumer flash products. Perhaps OCZ will go for a single -level cell (SLC) flash design with the SandForce controller and push for performance over affordability.
A couple of days ago we reported Imation's notebook SATA SSD upgrade kit. You do get the feeling that multi-minute Windows boot times could start to become history in 2010. We could get SSD drives on the motherboard, original-fit or retrofit internal SSDs used for the C: drive, or USB 3-connected external SSDs like this coming OCZ baby. Let the SSD times roll. ®